Undaunted by the restrictions caused by the pandemic, UConn's 2020 MFA exhibition is now online.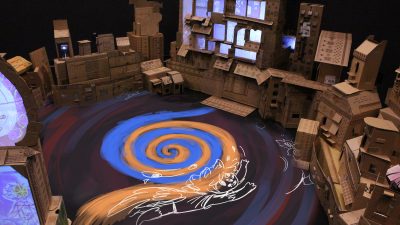 Photographer Elizabeth Ellenwood was working at a photo lab in Boston making prints when she decided it was time to further explore her own artistic endeavors.
"I also had an interest in teaching. I wanted to find a place that would give me the opportunity to try out teaching and see if that's something that I wanted to continue working on," she says about enrolling in the MFA program in Studio Art three years ago. "While I enjoyed being in the dark room, I was making prints for other people. I just really wanted more time to focus on my own artwork."
Ellenwood's exploration of her own photography and art can be seen in the unique 2020 edition of the annual Master of Fine Arts Thesis Exhibition at The William Benton Museum of Art, which is posted on the museum's website due to the COVID-19 pandemic. The online exhibition in Studio Art is titled "Tideland" and in addition to Ellenwood includes the works of painter and sculptor Olivia Baldwin, multimedia artist Shadia Heenan Nilforoush, and artist and printmaker Chad Uehlein. The Digital Media & Design online exhibit is titled "Square One" and includes the works of Jonathan Ampiaw, Karin Ching, Stefan Lopuszanski, Laurel Pehmoeller, and Jasmine Rajavadee.
"Square One" offers a variety of mediums including narrative film, hybrid digital and physical games, animation, installation, and projection mapping. Each exhibited work acts as a window through which the audience can access new worlds, personal memories, and cultural reflections, connecting visitors to where each artist started.
Ampiaw's video game explores the themes of personal development and social growth. Lopuszanski's game blurs the line between the digital and physical realms to create an innovative gameplay experience. Ching examines her journey to a new country, illustrating the cultural differences she has discovered between Taiwan and the United States, centered around food. Pehmoeller's short film reflects on her own experiences as a young adult trying to find her way in the world. Rajavadee investigates the artist's Lao-American upbringing with reference to cumulative memories and emotions associated with connecting the personal and the (multi)cultural.
The 2020 Studio Art and Digital Media & Design Master of Fine Arts Thesis Exhibition at The William Benton Museum of Art is now online.