A focus on topics ranging from lack of Black representation on writing staffs to the distorted perspectives of TV crime dramas.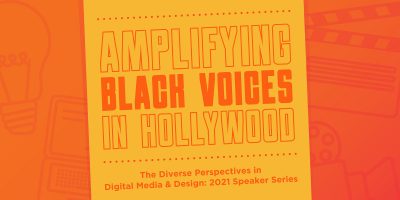 UConn's Digital Media & Design Department will host the inaugural event in its Diverse Perspectives in Digital Media & Design: 2021 Speaker Serieswith "Amplifying Black Voices in Hollywood" on Friday, Feb. 19 from 1 to 8 p.m., via Jorgensen Digital Stage.
The one-day summit will feature conversations with Black leaders from various sectors of the film industry, and will examine its changing landscape by exploring efforts to increase diversity in all aspects of Hollywood including screenwriting, development and production, producing and directing, and visual effects and post-production.
Participants will include:
• Romany Malco, actor/director of "Tijuana Jackson: Purpose Over Prison" on "Fighting for Equity in Hollywood."
• Kristen Marston, culture and entertainment advocacy director at Color of Change Hollywood, on "How the TV Crime Genre Normalizes Injustice."
• Alan Mayo, president of Orion Pictures, on "Authentic Storytelling at the Studio Level."
• Numa Perrier, director of "Jezebel," on "Creating Content for underrepresented Voices in Digital Media."
• Chris White, visual effects supervisor at WETA Digital, on "The Value of Inclusion in Visual Effects."
Last year, Color of Change Hollywood released its second major study on how the paucity of people of color writing scripts and in leadership roles in the film and television industries contributes to miseducation about the criminal justice system and makes racial injustice acceptable. The report, "Normalizing Injustice," examined 26 different scripted series focused on crime from the 2017-2018 season broadcast on both networks and streaming platforms.
The 2020 report found more than 80% of the producers, known as showrunners, as well as at least 81% of writers were white, while only 9% were Black. In three of the series, all of the writers were white. The data was similar to the organization's 2017 study of television and film writers, "Race in the Writer's Room," which examined all episodes from all 234 original scripted comedy and drama series on 18 broadcast, cable, and digital platforms from the 2016-2017 season. That study found two-thirds of shows had no Black writers and more than 90% of all shows had white showrunners.
"We are working in an industry that has not been built for Black people and people of color and so essentially it's functioning as it was intended to function," says Marston. "There's a lot of people who are working in the industry who are continuing to do things the way that they've always done things because that's what's worked for them. Hopefully we'll see a bit of change in this coming year, given everything that's happened in the past year."
Marston says events similar to the UConn summit can contribute to creating change because, even if people are not in the entertainment field, consumers hold "a significant amount of power," and can use their knowledge about industry issues to hold industry leaders accountable to improve their practices.
"Normalizing Injustice" examined for the first time how crime shows can problematically affect viewers because more crime shows — more than 60% of prime time programs — were on the list of the Top 100 most watched shows than shows from any other genre, and had a higher total viewership than any other type of program. Among the concerns identified in the study, crime shows often:
• Make heroes of people who violate our rights
• Present the powerless as those who actually manipulate the system most
• Present momentary flash of remorse about killing or wrongly jailing as all the accountability that's need
• Turn racism into a joke, a prompt for eye-rolling
• Frame objections to illegal and immoral behavior as laughable ignorance of the naïve who don't know "how things really work on the streets."
"We know that Americans' perceptions of crime are very much at odds with the reality of crime in America," the report says. "As just one example, while the crime rate has dropped precipitously over the last 20 years, the number of people who say that there is 'more crime in the U.S. than a year ago' has steadily risen."
Marston says an example of the report resulting in change can already be seen in programs like "The Rookie," whose creative team worked with Color of Change Hollywood to adjust its season.
"There have been a lot of creators who have really understood what we were trying to do," she says. "We're not trying to tell them how to do their work or tell them what stories to write. We're just there to be a solution oriented partner along the way."
Upcoming programs in the Diverse Perspectives in Digital Media & Design: 2021 Speaker Series will include "Bl(x)ck Rhizomes: A Digital Public History Praxis," on Feb. 22; "Women in Animation" on Feb. 26, and "Representations of Religion in Film" on March 5 with other programs being scheduled.
"Amplifying Black Voices in Hollywood" is presented by UConn's Department of Digital Media & Design, in partnership with Jorgensen Center for the Performing Arts and the H. Fred Simons African American Cultural Center
This summit is free and open to the public, but RSVP is required. To register and for more event details, visit the DMD Diverse Perspectives site.
Article From UConn Today