UConn's Social Media Analytics Command Center will provide valuable insights about the mood of the country during the 2020 election.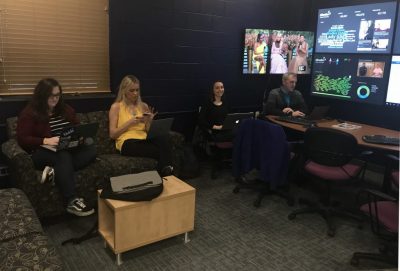 In the 2016 elections, a vast majority of traditional polls had predicted Hillary Clinton would be the winner. When Donald Trump won, many in the nation were stunned. While standard polling missed the mark, social media data had accurately predicted Trump's victory.
A team of UConn faculty and students are using a social media analytics command center to better capture public opinion around the 2020 presidential elections and be a key resource for journalists and the public.
"Our department's Social Media Analytics Command Center could pave the way for UConn to become a national leader in social media analysis expertise, on par with the reputation other universities have for their traditional polling data," says Heather Elliott-Famularo, Donna Krenicki Professor and head of the Department of Digital Media and Design.
As social media becomes an increasingly important platform for people to express and inform their political beliefs, monitoring online conversations can provide invaluable insights into public attitudes.
Since its founding in 2018, the command center has tracked issues surrounding the Connecticut gubernatorial election and conducted real-time analyses of the Democratic debates. For the 2020 elections, the group has set up dashboards to monitor activity in swing states and observe conversations about important political topics like hate speech. By monitoring social media activity, the team at UConn will form a detailed picture of popular opinions in the American electorate.
John Murphy, assistant professor-in-residence in the Department of Digital Media and Design, has been developing social listening strategies for businesses for the better part of a decade. Social listening is a growing marketing technique that leverages social media activity to gain insight into customer sentiment. Since coming to UConn in 2017, Murphy has launched social listening initiatives focused on topics as varied as sports, mental health issues, and the casino industry.
Using social media to analyze political sentiment is a logical step, says Murphy.
"When it comes to politics, social media analysis helps capture sentiments in a way that traditional phone polling may not be able to," says Murphy. "When people are being polled, they may respond differently knowing that their answers are being monitored. Gathering data through social listening eliminates hesitancy to respond honestly from the process."
Throughout the election cycle, Murphy and several undergraduate students will measure and analyze all publicly available social and digital media including websites, blogs, and news sources using a leading platform for social media analytics. The platform specializes in social listening, and can analyze and generate reports on information in hundreds of languages using almost endless keywords. Access to this robust software allows UConn's team to import polling data and candidates' financial information and overlay it with the social media data they collect to get a fuller picture.
They will also create sophisticated data visualizations through graphics and animations using historic and live analytics to convey complex issues quickly and clearly. Political scientists and communications experts from UConn's faculty ranks add additional context to help interpret the massive amounts of raw data collected.
They hope to show that social media analysis can be even more valuable than traditional polling when it's combined with the scientific rigor that an academic institution like UConn can provide.
"The first televised presidential debate between Nixon and JFK turned politics upside down. TV has been a major part of the equation ever since. Social media is that new platform that we have to factor into politic analyses and predictions," says Murphy.
The public is invited to see the Social Media Analytics Command Center in action tomorrow at a Super Tuesday Watch Party from 6 – 11PM in the Merlin D. Bishop Center on the Storrs campus. For more information, visit the Social Media Analytics Command Center website.