March 1, 2023 | Jonathan Kopeliovich
In spring 2022, UConn's department of Digital Media & Design hosted the 2022 BFA Senior Exhibition: Resilience, in the Jorgensen Gallery of the Jorgensen Center for the Performing Arts, which featured the work of 25 senior UConn DMD Bachelor of Fine Arts students from the Storrs and Stamford campuses. Exhibited artworks range from animations to documentary films to interactive works, including games. The title Resilience reflected the challenges and experiences of the exhibiting artists. 
Ten students received awards for their senior projects. Eight months have now passed since graduation. The department checked in with three of the award winners to find out, "Where are they now?"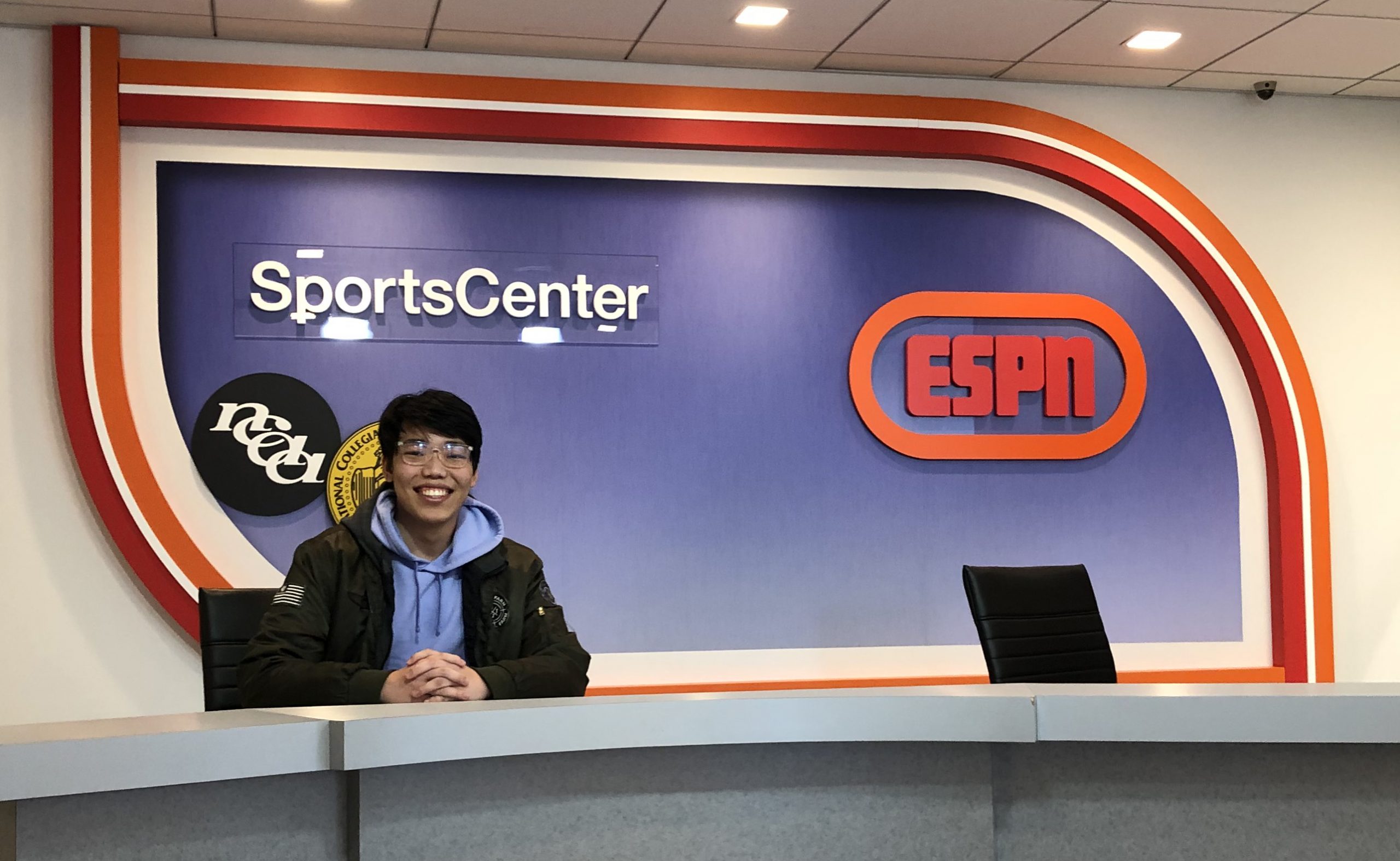 Chaofan Yu, originally from Jinan, China was awarded an "Outstanding Achievement in Interaction Design" for his mobile app, Vista. It also won the "Gold Award for Student Brand Identity" at the 46th Connecticut Art Directors Club Awards Show.
Chaofan was recently hired as a Real-Time Graphics Developer at ESPN. He believes that the flexibility of UConn's Digital Media & Design curriculum allowed him to curate from a diverse set of skills beyond traditional graphic design. ESPN uses a variety of software – Cinema 4D, After Effects, and Illustrator, which are all taught in DMD classes that Chaofan took. 
"I am the person who creates the graphics and alters the animation at the last minute before they go on air. It's a high-pressure position," Chaofan said.
Although he was in the motion design and animation concentration, he also took web design, animation, and illustration classes. For his senior project, Chaofan decided to design a mobile app instead of an animation. 
The small class sizes in DMD allowed him to foster close relationships with his professors. Chaofan selected motion design and animation professor, Heejoo Kim, as his faculty advisor for "Vista." Professor Kim was an extremely supportive mentor during his senior project and a previous independent study. 
"As a sophomore, I wanted to create an experimental 2D/3D hybrid animation, something that was way beyond my expectations. She was always encouraging, and it was amazing to meet with her every two weeks about my independent study. Her passion for design helped me set my career goals," Chaofan shared.
As an animator and web designer, Chaofan produced a plethora of high-quality work for his portfolio during his time at UConn. He also had a range of experiences, as a marketing intern in the Center for Career Development, at UCTV, and as an Associate News Designer at the Daily Campus. And he developed billboard designs for DMD's 2022 recruitment campaign. 
Six months later, he got his dream job at ESPN, the major sports entertainment company in Bristol, CT.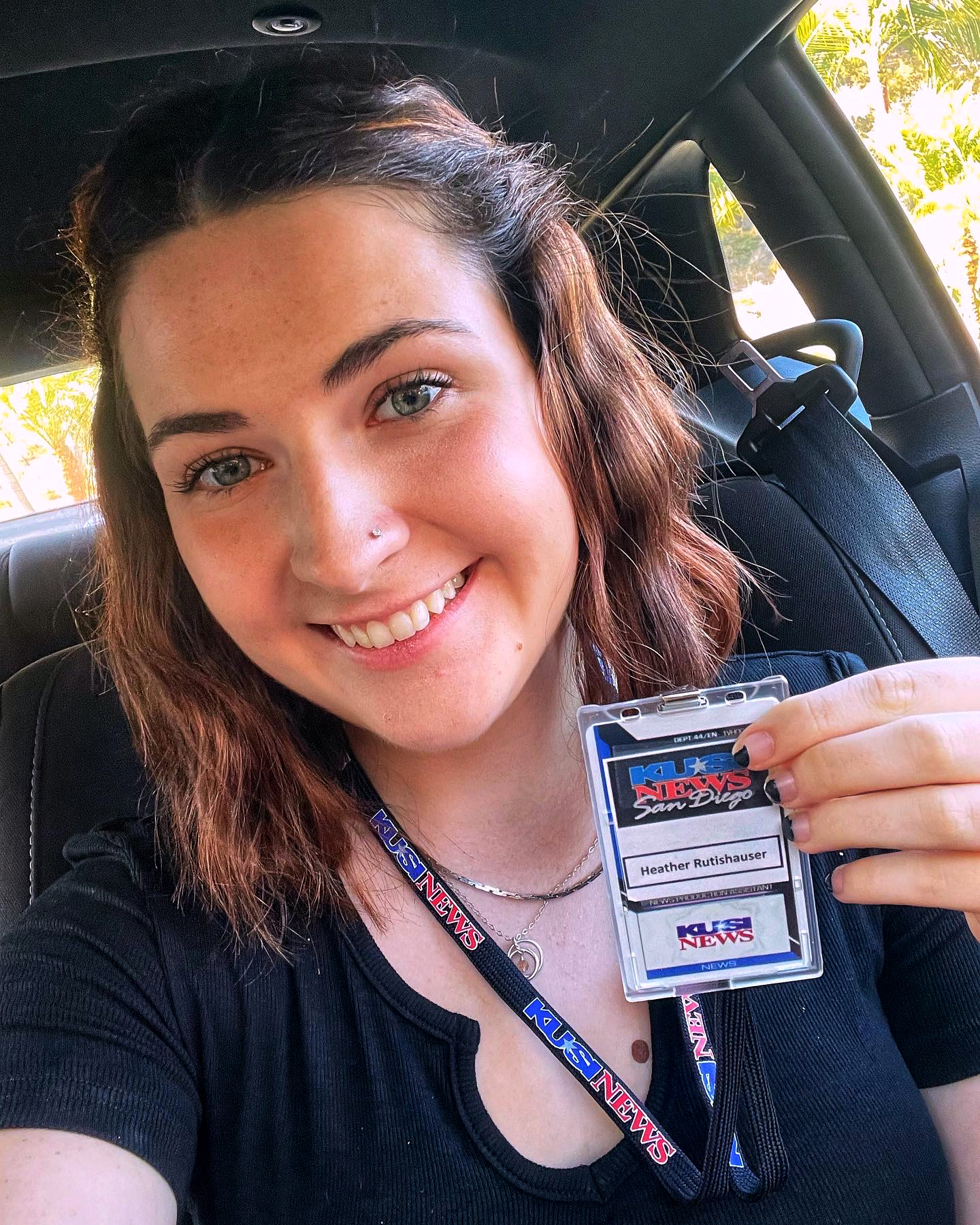 Heather Rutishauser of Monroe, N.Y., was awarded an "Outstanding Achievement in Documentary Film" for her short, Floating to Freedom, which combined archival footage, animations and interviews to tell the story of her uncle, Hai Do, a Vietnamese refugee and current photojournalist, and his struggle to escape Vietnam during the war. After graduation, Rutishauser was hired as a news photographer at local news station KUSI-TV in San Diego.
"I'll get assignments and go out to film B-roll. Sometimes I'm also recording sound and actually have to interview the people on weekends, because they don't have reporters on the weekends. Or I go out with a reporter and record them on location and then edit the show. Another big thing I've done on the weekends is NAT packages, which means natural sound. That's when I go out on my own to record an event, without a reporter," Heather said. 
With the B.F.A. curriculum in Digital Media & Design – Motion Design & Animation concentration, she earned a solid foundation of animation skills which led to freelance work in motion graphics. 
She also took DMD film courses in editing, cinematography and documentary production. Her interest in documentary was supplemented by a minor in sociology and a background in drawing, which prepared her to incorporate animation in her film projects. 
"UConn definitely prepared me technically, in terms of camera and editing experience, in order to get this job. I was really surprised when they first took me on, because I have almost no explicit journalism experience. But after being in this job for over a month, I realized that a solid technical foundation made me easily adaptable to different types of positions," Heather said. "Creating documentaries has helped tremendously as well, because the concept of building a story based in truth is everything in journalism. Now,  I use those skills to tell different stories in careful and considerate ways."
Six months after graduation, her experiences in UConn's Digital Media & Design program led Heather to her current job as a photojournalist at KUSI, an independent television station in San Diego, CA.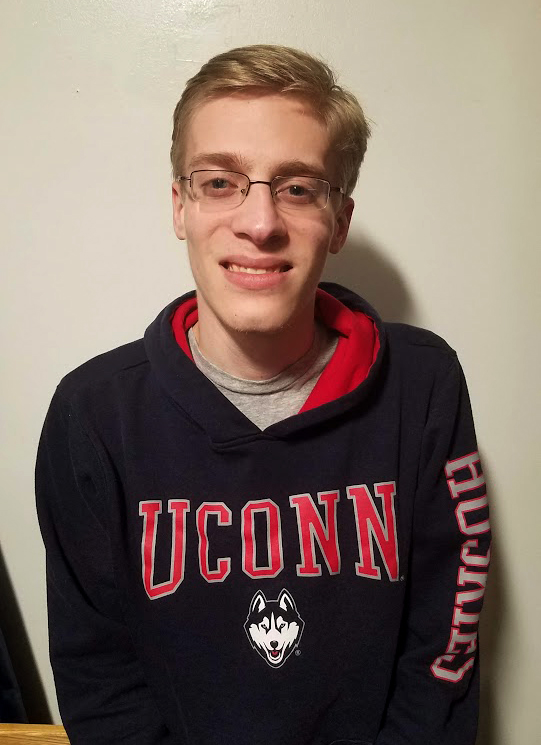 Jon Larsen, from Stratford, CT, was awarded an "Outstanding Achievement in Game Design" for his video game, Paint Knight.
Paint Knight focuses on a courtly painter who awakes from his slumber to find the world drained of color. The project takes inspiration from Jon's work in drawing cartoon parodies of popular video game characters and platformers like Paper Mario.
Immediately after graduation, Jon was hired as a part-time graphic design artist at Tech Learning Network, creating lower thirds and transitions for educational YouTube videos. His boss was impressed by his Photoshop skills, which is something that Jon credits to DMD's curriculum.
At UConn, Jon was a B.F.A. student in the game design concentration. As part of his education in game and UI design, he was taught to make his work accessible to a wide audience. This included being selected and certified, as a UConn student, as a specialist in accessible player experiences through a Dell Education Grant in 2021. In DMD's client-facing Agency course Jon served as the primary visual designer on a team that made a fun hybrid animation for "The Small World Initiative."
"I gained experience with Adobe software in DMD. For my job at Tech Learning Network, I used Photoshop a lot. My boss joked about how I was one of the few employees that knows how to use the software effectively," Jon said. "The motion graphics, design lab, and the UI classes helped me to get a solid footing in Photoshop and After Effects." 
The DMD program's emphasis on storytelling, technical skills, and aesthetics helps students build strong portfolios. The wide variety of coursework and flexible curriculum prepares students for future careers in diverse industries, including entertainment, news, design and advertising. And the world-class faculty offer mentorship and great opportunities for students.
Additional award winners from the 2022 BFA Senior Exhibition: Resilience are: Megan Du Plessis (South Windsor, Conn.) was also awarded "Outstanding Achievement in Documentary Film" for "Invisible Ties." Lauren Platt (Skillman, N.J.) won "Outstanding Achievement in 3D Animation" for "Starry-eyed." "Outstanding Achievement in Motion Design" winners were EJ McCabe (Bridgewater, Mass.) for "Cats vs Robots" and Paula Guerrero (Stamford, Conn.) for "Gatcha!" Eric Laputka (Bridgewater, N.J.) also won "Outstanding Achievement in Game Design" for his 3D video game "Pizza Time." Cara Tracey (Darien, Conn.) also was awarded "Outstanding Achievement in Interaction Design," for her mobile app, "PeakBag." The final award was given to Nicole Mata (Tolland, CT) for "Outstanding Achievement in Creative Visual Design" for her 2D animation, "How to Conserve Bread."