Motion Design & Animation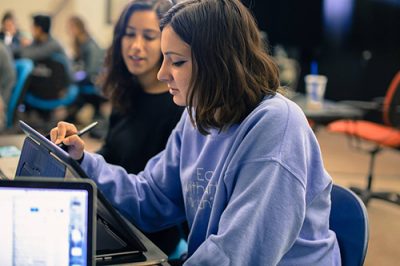 Our nationally ranked B.F.A. in Motion Design & Animation program (Storrs/Stamford) combines design, 2D/3D animation, and video to create content for entertainment, visualization, marketing, communications, education, and more. Motion can clarify and enrich our understanding of stories, messages, and experiences, as well as deliver impact to advertising, social media, tv, video, film, sports, and educational media. As screens continue to proliferate, motion is becoming an important part of our everyday experiences in UI/UX, architecture, live performance, wearables, and emerging platforms like AR and VR. And our motion artists are in high demand because they are skilled in conceptual thinking, problem solving, and content creation.
3D Animation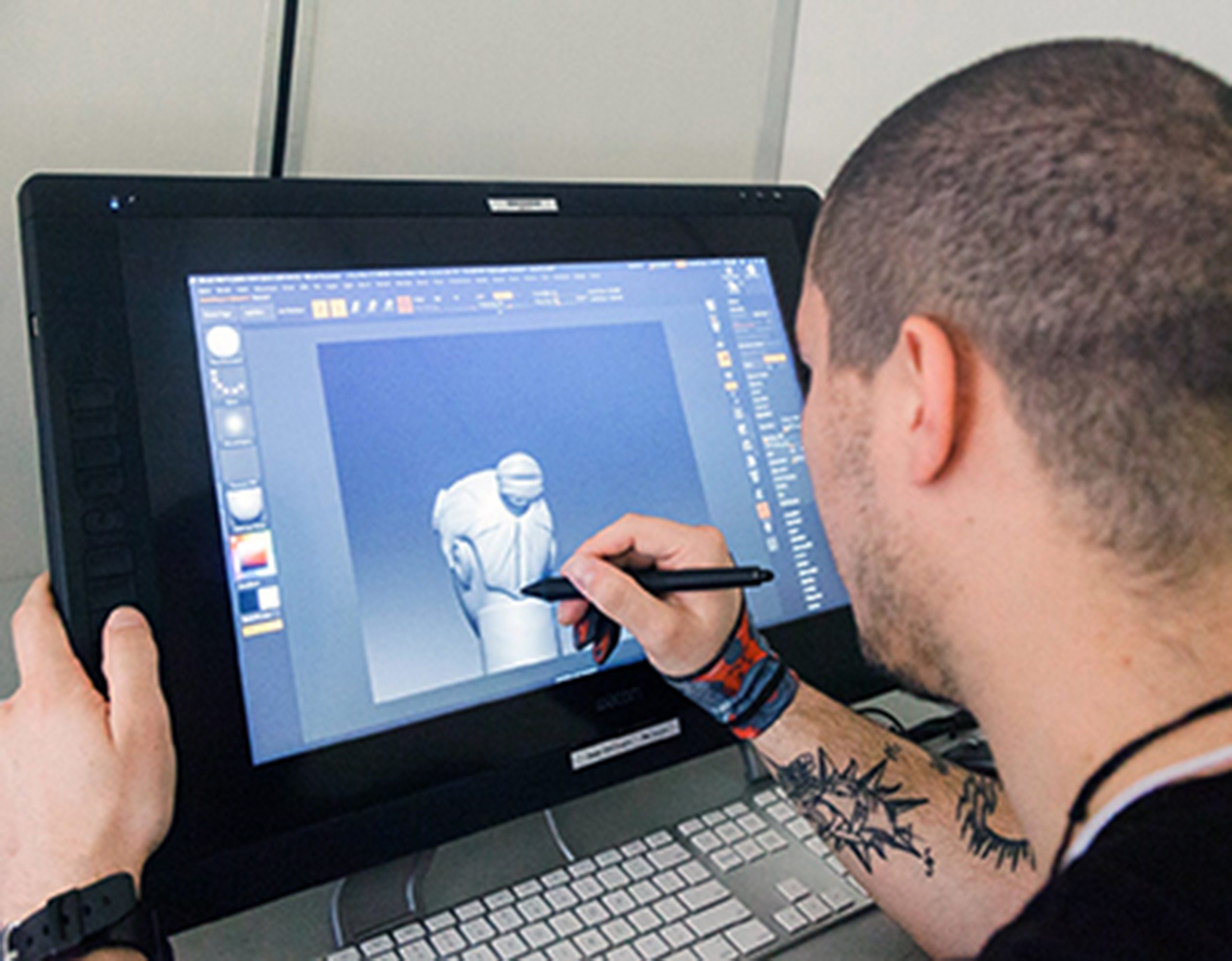 Our nationally ranked B.F.A. in 3D Animation program (Storrs only) gives students experience in all aspects of 3D animation production: modeling, lighting, rendering, animation, simulations and visualizations, rigging and compositing for visual effects. Our courses focus on the core principles of 3D animation, which then can be applied to any industry standard application. Acknowledging that the field of 3D animation is broad and diverse, our students gain comprehensive knowledge of 3D animation production, and in addition, have the ability to customize their education to focus on their personal area of interest.
Web / Interactive Media Design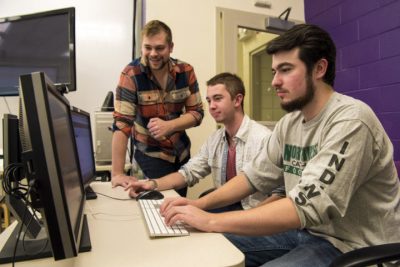 The B.F.A. in Web / Interactive Media Design (Storrs/Stamford) program engages students in creative approaches to a wide range of interactive experiences including, of course web design, but also locative media, interactive and wearable electronics, interactive installation and performance, interactive narratives, and the Internet of Things. The concentration is an interdisciplinary area of study, drawing from fine art, design, theater, architecture, literature, and computer science. Web / Interactive Media majors study the fundamentals, best practices, and emerging techniques of programming, physical computing, user experience (UX) design, and interactive project management to produce engaging, exciting work across multiple disciplines.
Game Design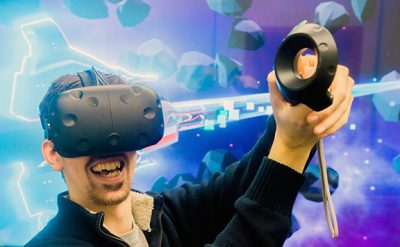 Our nationally ranked B.F.A. in Game Design program (Storrs only) focuses on the creation of interactive experiences for entertainment, education, science, and other pursuits. These interactive experiences take various forms, including board games, card games, casino games, digital games, carnival and amusement experiences, augmented and virtual reality, and geocaching. Game Design draws upon multiple disciplines – fine art, programming, architecture, psychology, animation, business, and the humanities – and drives how we view devices built for person-technology interaction (e.g., touchscreens, motion capture). Crucially, Game Design provides a framework for understanding complex relationships between people, tools, human cognition, and the environment.
Digital Media Business Strategies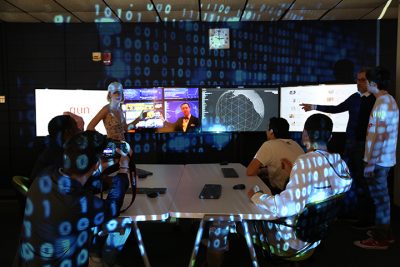 The B.A. in Digital Media Business Strategies program (Storrs/Stamford) provides students with the tools necessary to thrive in a rapidly-changing media landscape. Students gain real-world experience engaging in social media listening and analytics, developing digital marketing campaigns, and identifying brand strategy for target customers. The concentration emphasizes understanding how digital media technology affects consumer behavior and examines ethically-responsible social media strategy.
Digital Culture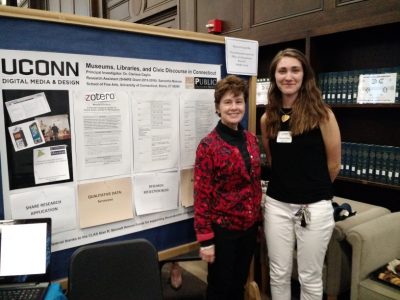 Marked by its commitment to openness, collaboration, transdisciplinarity, and experimentation, the B.A. in Digital Culture (Storrs only) is for students who want their work in digital media and design to make a difference in society. Students in this concentration develop depth of skill in the digital media area of their choice while also gaining practical and theoretical grounding in a humanities discipline or allied field relevant to their post-college interests. From history, anthropology, music, and human development and family studies to human rights, journalism, learning sciences, and more, the varied courses of study available at UConn empower DC students to develop a strategic research and career focus. Digital Culture majors envision themselves using their digital media talents in libraries, museums, and the public arena.
Digital Film/Video Production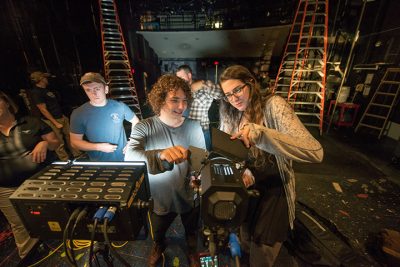 The B.F.A. in Digital Film / Video Production (Storrs/Stamford) provides a hands-on approach to the complete filmmaking process, from pre-production through post (concept development, project planning, screenwriting, storyboarding, cinematography, sound design, editing, and effects), all the while emphasizing critique and revision to result in telling powerful stories via professional products. Short-form video production is an integral tool for sharing stories, advocating issues, marketing products, and distributing information for learning. Whether they want to create a documentary, an experimental or narrative short film, a promotional video, or even a 15-second clip on Snapchat, our students develop high production values to learn to tell powerful stories to specifically targeted audiences. A vast array of professional, high-end film and audio equipment is available for student checkout through our media cages, the Imagination Station in Storrs, and the Splash Pad in Stamford.
B.A. in Digital Media Design (generalist)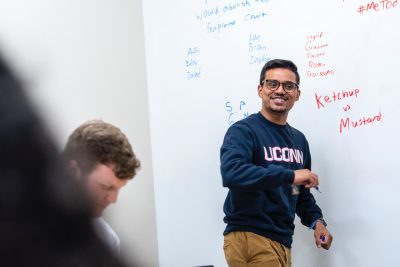 The B.A. in Digital Media Design (Storrs/Stamford) is designed to provide a fundamental understanding of, and to develop proficiencies with, a broad spectrum of digital media technologies, design skills, and applications and encourages exploration outside the major in order to strengthen the content of a student's DMD studies. The B.A. DMD curriculum is extremely flexible, allowing majors to combine a degree in Digital Media & Design with other majors, minors, and courses offered through other departments across campus, taking advantage of UConn's R-1 research status.