First Year Student Application Overview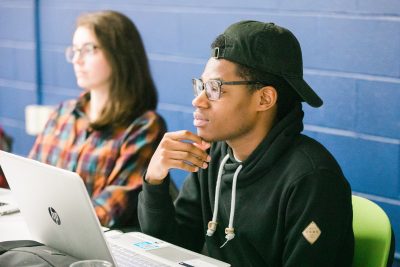 Welcome to UConn's Department of Digital Media & Design! We are excited to meet prospective students and invite them to learn more about our DMD program! Learn more from our Online Brochure.
First-year admissions to the School of Fine Arts as a Digital Media Design Major is a two-part process. You must submit:
An application to the University of Connecticut online through either the Common Application or the Coalition Application. There is no preference in application choice and only one application is required. For more info, visit the Undergraduate Admissions Office
An online portfolio through Slideroom.
Entrance into the Digital Media & Design program is highly competitive, and the portfolio review is a vital part of the admission process. Your application to UConn DMD will not be complete until you upload your Slideroom portfolio.
The UConn Digital Media & Design department offers four-year undergraduate degrees at both the Storrs (main UConn campus) and Stamford campuses. Residential housing is also available in Stamford, a growing campus located just 45-minutes from NYC, in close proximity to DMD industry partners. You will be asked to choose a first-choice campus and major (Digital Media Design (B.F.A.) or Digital Media Design (B.A.) in your application.
You will also be asked in Slideroom if, in the event that your application to your first-choice campus is not successful, would you like to be considered for the other campus as a second-choice option? Please be sure to check the appropriate box, AND in the Common or Coalition Application, indicate your second choice major and campus as well!
New England Regional Student Eligibility
The University of Connecticut participates in the New England Regional Student Program. The New England Board of Higher Education provides New England residents with a tuition reduction when they pursue certain majors at New England public colleges and universities. Due to its unique nature, UConn's Digital Media & Design (BFA & BA) is one of the approved degree programs. Students from Massachusetts, New Hampshire, and Vermont are eligible for a significant discount on out-of-state tuition (175% of UConn's in-state tuition cost) when they choose Digital Media & Design as their major at UConn.

Deadlines
ALL FIRST-YEAR APPLICANTS to Digital Media & Design: (Storrs & Stamford Campuses)
November 1, 2023 - FEE-FREE APPLICATION DAY for Connecticut High School Students!! Submit your Common/Coalition App on this day to save the $80 application fee. (You do NOT have to submit your Slideroom portfolio by this date.)
December 1, 2023 - Priority Freshman Application Deadline for Merit & Honors Consideration
December 30, 2023 - Early review deadline (portfolios submitted by this date are reviewed sooner.)
January 15, 2024 - Deadline for Common Application and online portfolio uploaded to Slideroom
February 15, 2024 - FAFSA Deadline for Financial Eligibility
March 1, 2024 - Admissions decision notification begins
ADDITIONAL DATES FOR STAMFORD APPLICANTS ONLY:
March 1, 2024 - Students interested in living in UConn's residential facility on the Stamford campus are advised to complete the admissions application in order to receive a decision and apply for housing before the April 1 Stamford housing deadline.
April 1, 2024 - Stamford housing deadline.
May 1, 2024 - General Regional Campus Application Deadline*
*Regional Admission decisions are made on a rolling basis. (NOTE: Stamford DMD applicants are highly encouraged to meet the January 15, 2024 deadline in order to ensure placement, scholarship, and housing opportunities.)
All interested students may contact the University Admissions Office for more information at BeAHusky@uconn.edu or at (860) 486-3137.
Portfolio Requirements
The portfolio items below are to be uploaded to the Media section of Slideroom:
1) Create a 1-Minute Video
Create a 1-minute video that tells your personal story of engagement with, and affinity for, Digital Media and Design. Share your thoughts and reflections about the digital medium and why UConn is the place for you to advance your studies. We ask that you produce your video as simply as possible (use a smartphone or webcam) and keep the focus on you - we want to meet you and get to know more about you through your video. Your video will be judged on substance (what you have to say), not on production values (how you shoot or edit) so don't worry about making the coolest looking video. Instead, focus on making a video that tells your personal story. Also, we will watch only 60-seconds of your video, so running longer than 1-minute will not help your application. The file format for all video submissions should be: .mov, .mp4, or .wmv.
2) Your Artistic Portfolio
All Applicants (B.A. and B.F.A.) Must Upload a Portfolio to Slideroom.
A portfolio is a collection of the strongest creative work that represents you - your artistic interests and experiences in art, digital media, design, and related areas.
It should contain the best creative work you have made
including:
films/videos, animations, digital imaging, traditional art
(drawings, paintings, photography, sculpture, mixed media)
, web design, creative blogs, writing samples, and even work in math, science, technology, business, music, or other areas.
The
total file size limit is 60MB
for your portfolio upload. Compress or zip your files prior to uploading if you think you may exceed that limit.
Other Info
Please keep in mind that we DO NOT accept USB drives, CDs or DVDs – only digital files uploaded to SLIDEROOM.
IMPORTANT NOTE:
 

Only applicant portfolios that have been reviewed through Slideroom, in accordance with the deadlines indicated, will be considered for admission into the Digital Media & Design program for the following fall semester. Portfolios received outside of these processes or after the indicated deadlines will NOT be considered.

 
We do not schedule private review sessions
.