MFA Exhibits at Benton Showcase Work by DMD, Studio Art Students
Work that celebrates the collaboration that can take place in the arts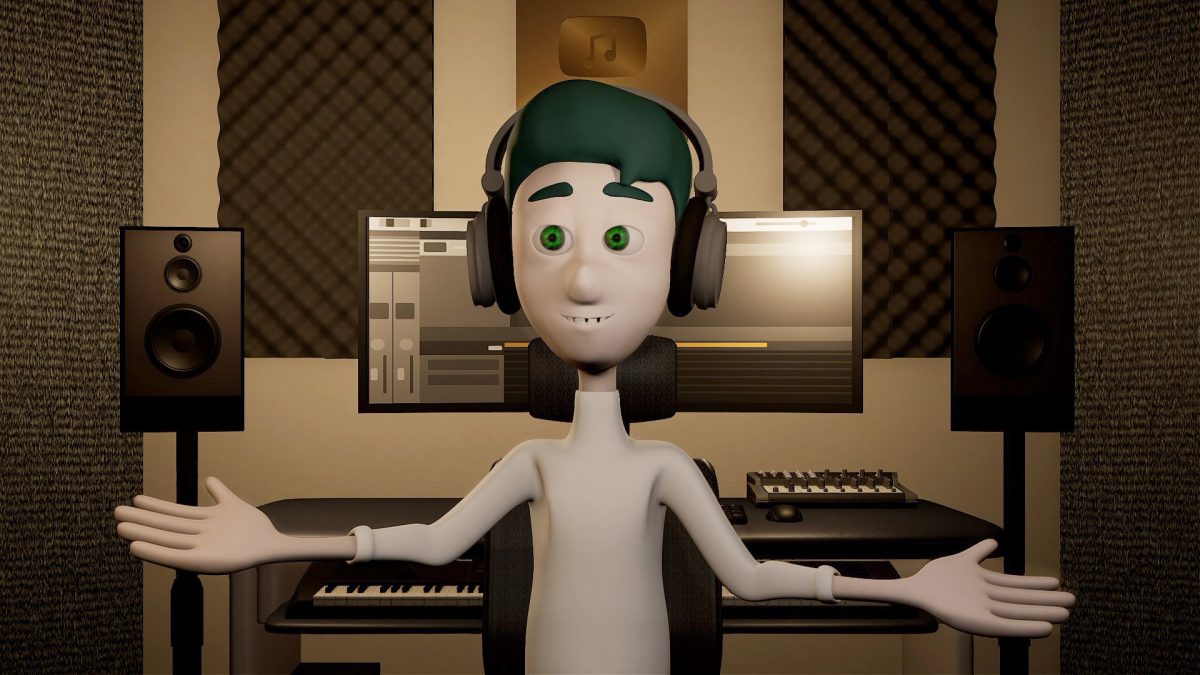 One of the attractions for enrolling in the Master of Fine Arts in Digital Media & Design (DMD) is the opportunity to work on collaborative projects within the community of creative artists in the School of Fine Arts and beyond.
As a senior in film studies at Chung-Ang University, one of South Korea's leading private comprehensive research universities, Hongju (Hannah) Lim was becoming interested in exploring 3D animation, and also wanted to work more collaboratively with other visual media. One of her professors told her about UConn's MFA in DMD.
"DMD brings together multiple disciplines. I thought, if I go there I will have the opportunity to really collaborate with others, and I really did," says Lim, who is completing the DMD MFA program this spring. "During my graduate study, I've worked on developing animations for projection mapping in the lobby of The Bushnell Center for the Performing Arts in Hartford and I've also created scientific visualizations in collaboration with researchers in the Department of Marine Sciences and with other DMD students."
Lim's MFA thesis project, the 3D animated short film "Ensemble," is part of the annual Master of Fine Arts Thesis Exhibition at The William Benton Museum of Art, which continues online at The Benton website. The exhibition includes works by graduating Studio Art and DMD MFA students. The Studio Art exhibition, titled "Sour Milk," features works in photography, mixed media, video, animation, book arts, drawing, printmaking, and painting. The DMD exhibition, titled "Turning Point," features 2D and 3D animations, UI/UX interactions and designs, digital games, and virtual reality.
Lim's work "Ensemble" tells the story of a young composer who ignores his outgoing neighbors as he struggles to write music. Ultimately, he learns that the answer to making powerful music is not in his isolation, but in his interactions with neighbors. In the film, the composer leads his neighbors as they play their own instruments, which allows him to complete his new composition. Lim says the film reflects her own experiences.
"In my undergraduate years, people would ask me to spend some time with them, such as traveling to other cities together or going over to their houses to talk and play. However, I said 'No, I need to study, I need to write my script because I need to concentrate on my school work,'" she says. "After I came here to the USA, I have noticed that for all those years I have missed my chance to learn from people around me. This new environment has helped me to learn by looking around at the people, places, and cultures that surround me. 'Ensemble' shows that the more you disconnect from reality, the more likely you will be to miss out on valuable interactions."
Lim focused on character animation during her MFA work and telling stories about young adults and children. She originally wrote the script for "Ensemble" using only young adult characters but thought the storyline was too serious. She added children and music to the script to make it both lighter and more meaningful.
"Adding characters who are children to my film really conveyed what I want to say through the animation. Children are genuine and innocent, so their silly actions are more easily accepted. I believe the protagonist decided to spend time with the children because instinctively he doesn't want to hurt their feelings. I decided to make the protagonist a composer, because music is something that can be very personal, but it is also something that you could collaborate on together," she says. Lim has collaborated with a Korean music producer Ju Won Lee in making music for "Ensemble."
In addition to Lim, the 2021 DMD MFA Exhibition "Turning Point" features the work of: Emma Atkinson, "when we were," virtual reality video game; Yucheng Hang, "Cybertown," interactive educational platform; Wenchao Lou, "Memory-Home-Food," 2D cooking game; Claudia Nunez, "As You Wish," 2D animation and pitch bible; and Renoj Varghese, "Microinteractions in Chatbots," interaction design.
The 2021 MFA Studio Art exhibition "Sour Milk" considers what has soured, creating potential for positive change or harmful destruction. Judith Thorpe, professor of photography and MFA Program director, and Janet Pritchard, professor of photography and MFA Project Seminar coordinator, noted the challenges faced by this year's MFA class: "Graduating during the time of COVID-19, the class of 2021 has encountered challenges never before imagined. Last year's class bravely pivoted mid-spring while this year's class continued facing a year of uncertainty. Blocked from their studios for months, they encountered and mastered alternate means of instruction, conception, production, and fabrication, always adjusting on the fly, driven by their will to create. We celebrate their accomplishments. They challenged themselves, creating new work in unexpected ways that reflect their insights and development over the past three years. Their creative work asks questions and then asks more questions. Their art is visual poetry that will continue to grow and develop after graduate school."
"Sour Milk" features works by Joseph Caster, photography; Shelby Charlesworth, mixed media installation; Rachel Dickson, photography and video; Paul Michael, books arts and video; and Magdalena Pawlowski, painting and etchings.
An Emerging Artist Talk with the Studio Art MFA candidates will take place on Wednesday April 21 from 3 to 5 p.m. EDT via Zoom. Visit the online exhibition to register.
See original story via UConn Today: https://today.uconn.edu/2021/04/mfa-exhibits-at-benton-showcase-work-by-dmd-studio-art-students/