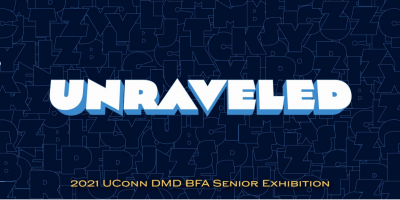 Graduating BFA seniors from the University of Connecticut Department of Digital Media & Design are excited to showcase their senior project work in the virtual exhibition Unraveled. The online exhibition launches Wednesday, April 28, 2021 at http://dmd.uconn.edu/bfashow. In addition, an online screening featuring film and animation premieres will take place via YouTube on Friday May 7, 2021 at 7pm EDT at http://youtube.com/uconndmd. Unraveled is presented by UConn Digital Media & Design (DMD) and the Virtual Jorgensen Gallery at the Jorgensen Center for the Performing Arts. All events are free and open to the public.
Unraveled features the work of 22 senior UConn DMD Bachelor of Fine Arts students from both Storrs and Stamford campuses. Exhibited artworks range from 2D and 3D animations to narrative and documentary films, digital publications, interactive websites, and games. The title Unraveled reflects the feelings and reimagined workflows of the exhibiting artists' senior year. Everything they may have planned – or thought would be – became "unraveled." For many of them, this tumultuous year not only influenced the trajectory of their projects, but also the subject of their work. 
The exhibition includes work by the following students:
Simone Alston (Greenwich, Conn.), Glittergirl Online, 2D animation
Andrea Blanco (Stamford, Conn.), Amor, Sabor, Esfuerzo, short documentary film
Destin Brown (New Haven, Conn.), An Artist's Struggle, 3D animation
Meaghan Doherty (Enfield, Conn.), Viscid Xenogenics, 2D video game
Isaiah Edwards (New Haven, Conn.), BLACK SATURATION, short film
Nicole Ellis (Vernon, Conn.), I Try to MAGIC a Plant!!!, 2D animation
Mackenzie Fox (Stony Point, N.Y.), Through a Glass, 2D video game
Sophia Galante (New Haven, Conn.), Sleight of Hand, 2D animation
Alisia Gruendel (Branford, Conn.), Balter, 2D animatic
Katelyn Jepsen (Norwell, Mass.), Flecks, 3D modeling/2D animation
Cassidy Keller (Sandy Hook, Conn.), Where I Call Home, 2D animation and video
Jake Limone (Norwalk, Conn.), Abductee, narrative short film
Lynette Muse (Oklahoma City, Okla.), Oh,Chickens!, 3D animation
Akari Ohashi (Lexington, Mass.), out/o, 2D animation
Gillian Partyka (Summerville, S.C.), The Eastern Tower, 2D animation
Jakub Pirog (Stratford, Conn.), JR SPECS: The Come Up, short documentary film
Carlos Rivera (New London, Conn.), Mount Tolkien: "Out of Time," 2D animation 
Michael Russell (Madison, Conn.), My 2020 Process Book, multimedia book
Dana Santillana (Waterford, Conn.), Spiraling, 3D animation
Josh Stanavage (Colchester, Conn.), Take a Walk, mobile website
Marcella Vertefeuille (Ashford, Conn.), Personality, 2D animation
Anthony Zor (Bethel, Conn.), Lost Souls, narrative short film
The University of Connecticut's Department of Digital Media & Design creates future leaders in entertainment, design, business, and communications. Students can study animation, film/video production, game design, web/interactive media design, digital media business strategies, and digital humanities. Our commitment to experiential learning prepares our students to respond to real-world challenges, and we encourage students to find and express their voice, building from their unique background and perspective. We acknowledge that a diversity of thought and expression is needed in today's society and see great promise in our DMD students' abilities to make a difference in the world as future digital media content creators, distributors, and analyzers.
The University of Connecticut's School of Fine Arts balances artistic and cultural legacies with the innovative approaches and techniques of contemporary art. In doing so, the School of Fine Arts serves students at UConn in both their educational and their professional development. The outstanding faculty from the four academic departments (Art & Art History, Digital Media & Design, Dramatic Arts, and Music) are committed to providing rigorous professional education and all offer undergraduate and graduate degrees. The academic programs are supported by specialized and uniquely focused showcases, stages, exhibition spaces and forums which include the Jorgensen Center for the Performing Arts, The Ballard Institute and Museum of Puppetry, The William Benton Museum of Art, Contemporary Art Galleries, Connecticut Repertory Theatre, and von der Mehden Recital Hall.
###
If you would like more information about the 2021 BFA Exhibition, email Stacy Webb at digitalmedia@uconn.edu.
Download a .pdf of this press release.
---