The 2021 Digital Media & Design Master of Fine Arts Thesis Exhibition showcases innovative work in digital media.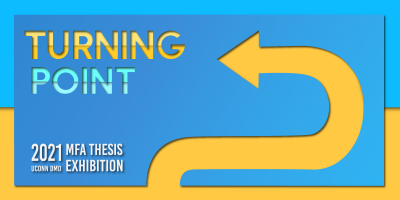 The University of Connecticut's Department of Digital Media & Design is delighted to announce the 2021 MFA Thesis Exhibition Turning Point, viewable online and in-person starting March 31, 2021. The in-person exhibition runs through April 9 at the William Benton Museum of Art at 245 Glenbrook Road, Storrs, CT. Museum hours are Wednesday through Friday from 10:00 AM to 4:00 PM and 1:00 to 4:00 PM on Saturdays. The online exhibition opens to the public March 31 at https://dmd.uconn.edu/2021mfashow/. A live virtual event featuring screenings and discussion with the exhibiting artists will be held Friday April 9th at 5pm EDT. All events are free and open to the public. 
Turning Point invites viewers to experience a varied range of digital media by graduating Digital Media & Design Master of Fine Arts students. The exhibition features 2D and 3D animations, UI/UX interactions and designs, digital games and virtual reality. Turning Point represents two years of research, creativity, development, experimentation and production.
Exhibiting artists: Emma Atkinson (Baldwinsville, NY, USA), when we were, Virtual Reality Video Game; Yucheng Hang (Yangzhou, China), CyberTown, Interactive Educational Platform; Hongju "Hannah" Lim (Hwajeong, South Korea), Ensemble, 3D Animation Short Film; Wenchao Lou (Shandong, Qingdao, China), Memory · Home · Food, 2D Cooking Game; Claudia Nunez (Lima, Peru), As You Wish, 2D Animation and Pitch Bible; Renoj Varghese (Orange, CT, USA), Microinteractions in Chatbots, Interaction Design. 
The Master of Fine Arts in Digital Media & Design within the School of Fine Arts at University of Connecticut (UConn) is a customized, two-year graduate program where students work closely with dedicated faculty in the development of their own independent creative practice. Situated within a top-25 public research university, UConn's Digital Media & Design Department operates at the intersection of fine art, technology, science, and the humanities. The program is designed for applicants with a demonstrated background in digital media/design who want the opportunity to intensely pursue advanced education and research in their specific area of expertise or in an interdisciplinary capacity drawing from more than one area within the digital media space. Situated in the School of Fine Arts, DMD faculty and students have the opportunity to engage in collaborative projects with both industry partners and top researchers across the university. 
UConn's School of Fine Arts balances artistic and cultural legacies with the innovative approaches and techniques of contemporary art. In doing so, the School of Fine Arts serves students at UConn in both their educational and their professional development. The outstanding faculty from the four academic departments (Art & Art History, Digital Media & Design, Dramatic Arts, and Music) are committed to providing rigorous professional education and all offer undergraduate and graduate degrees. The academic programs are supported by specialized and uniquely focused showcases, stages, exhibition spaces and forums which include the Jorgensen Center for the Performing Arts, The Ballard Institute and Museum of Puppetry, The William Benton Museum of Art, Contemporary Art Galleries, Connecticut Repertory Theatre, and von der Mehden Recital Hall.