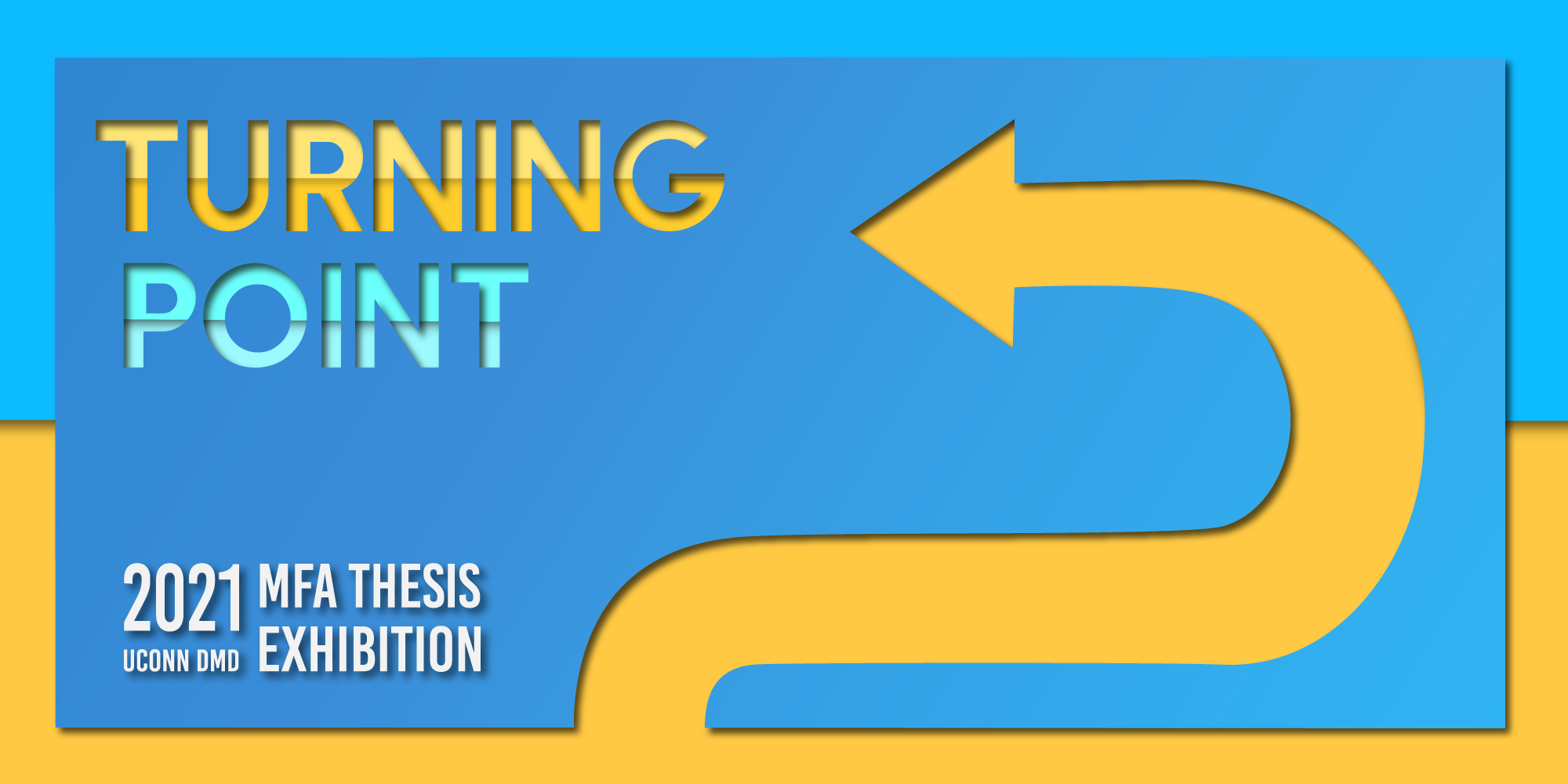 Turning Point 2021 DMD MFA Thesis Exhibition
Welcome to the online exhibition of Turning Point, the University of Connecticut's Department of Digital Media & Design 2021 MFA Thesis Exhibition. Turning Point is also open to the public and students of UConn for limited in-person viewing from March 31st to April 10th, 2021 at the William Benton Museum of Art at 245 Glenbrook Road on the Storrs campus. Museum hours are Wednesday through Friday from 10:00 AM to 4:00 PM and 1:00 to 4:00 PM on Saturdays. 
Turning Point invites viewers to experience a varied range of digital media by graduating Digital Media & Design Master of Fine Arts students. The exhibition features 2D and 3D animations, UI/UX interactions and designs, digital games and virtual reality. Turning Point represents two years of research, creativity, development, experimentation and production.
The exhibition features the work of Emma Atkinson (Baldwinsville, NY, USA), Yucheng Hang (Yangzhou, China), Hongju "Hannah" Lim (Hwajeong, South Korea), Wenchao Lou (Shandong, Qingdao, China), Claudia Nunez (Lima, Peru) and Renoj Varghese (Orange, CT, USA), graduating Master of Fine Arts students of Digital Media & Design at the University of Connecticut.
"Turning Point" Virtual Live Event: Screening and Reception  
Friday April 9, 2021 from 5:00pm-6:30pm EDT.
Join the exhibiting artists for a live virtual event that begins at 5pm EDT with a screening of each artist's work followed by open discussion with the artists. The event is free and open to the public, and will be hosted through the platform GatherTown. Registration is required. A link and further instructions for joining the event will be sent to registered guests. 
About the Exhibition 
The artists in Turning Point explore relationships, connections and emotions. Atkinson's virtual reality game, when we were, investigates perspectives and memories. Through exploration, players piece together the relationship between two sisters as they return to their childhood home. Hang's CyberTown is an interactive educational resource aimed at cultivating good digital citizenship in kids, with a focus on teaching safety, responsibility, and kindness. Lim is an animator and a filmmaker who focuses on telling stories about young adults and children. In her short animation film Ensemble, a young adult finds a new appreciation for music after forming  an ensemble with his neighbor. Lou's Memory · Home · Food is a 2D cooking game about traditional Chinese food culture and memories of her family as a child. Nunez's animated TV pilot and pitch bible, As You Wish follows the adventures of a stressed teenager turned witch and the genies under her spell, as they discover the power of friendship and love, but most importantly, believing in themselves. Varghese's project, Microinteractions in Chatbots, consists of animations exploring the ways people can communicate with text-based applications. Each animation has a unique context and chatbot personality. Microinteractions in Chatbots demonstrates how visual elements like typography, color, and motion can showcase a chatbot's character.
Turning Point acts as a reflection on the artists' paths up to this point. The exhibition traces their journeys through fictional and personal narratives, brought to audiences through digital media. Each piece serves as a focal point for the artist's evolution and growth. Together, the exhibition acts as a culmination of their MFA experiences, documented in digital media, and the launching point to their next adventures.