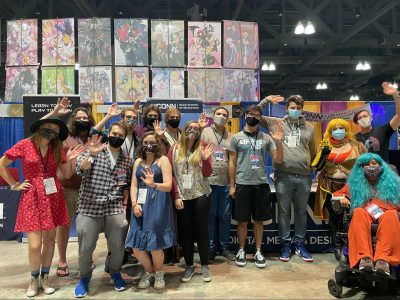 Amid waves of applause from game-loving superheroes, ninja turtles, and Jedi, three of UConn's Digital Media & Design game designers took home awards at this year's Connecticut Festival of Indie Games (CT FIG). The annual competition unfolded over three days (September 10-12, 2021) in partnership with ConnectiCon, a family-friendly gaming and anime convention that attracts more than 12,000 people to the Hartford Convention Center each year (ConnectiCon XVIII was the first large scale event held at the convention center since the start of the COVID-19 pandemic). 
Students, faculty, and alumni from Digital Media & Design, the Neag School of Education, Greenhouse Studios, and the School of Engineering showcased a dozen games ranging from multiplayer, arcade-style space adventures to virtual reality experiences centered on concepts as varied as plein air painting, geometry, and engineering. During ConnectiCon, attendees had the opportunity to play each game, vote on their favorites, and provide feedback to the developers, each of whom (undergraduates, PhD candidates, and current faculty) is rocketing toward a bright future in the field of design. 
"It is really wonderful to see our students shine. Winning 3 of the 7 digital awards in a state-wide competition is an incredible achievement," said DMD Department Head, Heather Elliott-Famularo. "We are incredibly proud of the students, alumni, and faculty in our game design program."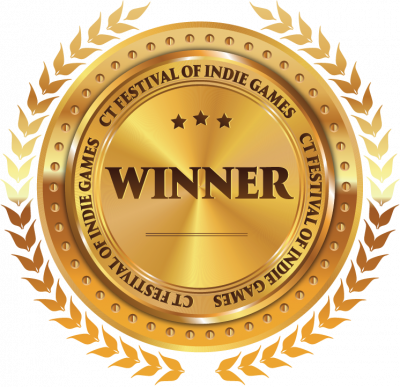 The 2021 CT FIG | UConn DMD student / alumni winners are: 
Currently in its eighth year of operation under the leadership of game designer Ken Thompson, the UConn Digital Media & Design game design program is ranked #1 in Connecticut and #19 on the East Coast according to Animation Career Review. It draws from multiple disciplines—including fine arts, psychology, and computer science—to engage students in hands-on projects and cultivate the skills needed to build a wide array of analog, video, and virtual reality gaming experiences. For aspiring Master of Fine Arts students, the program offers fully-funded, three-year MFA graduate assistantships in Digital Media & Design.
"It's gratifying to showcase their diverse skill sets and hard work to the state of Connecticut. I've watched many of them collaborate and learn how to make games, and it's an honor to have supported them along the way," said Ken Thompson.
Unique to UConn is the highly-interconnected nature of its DMD game design and educational technology programs. The two coordinate to target practical skills for digital age collaboration, communication, and universal design, all of which are crucial in cutting-edge entertainment, educational, and interactive business spaces. This partnership allows UConn's game designers to learn technical skills for their profession as well as concepts related to playful learning, human cognition, and accessibility with Dr. Stephen Slota, a DMD/Neag joint faculty appointment. Likewise, educational technology specialists enrolled in the one-year Master of Arts educational technology "Two Summers" program—whose motto is "Learn to Play & Play to Learn"—benefit from interdisciplinary courses that weave together best practices for interactive storytelling, instructional design, and classroom technology implementation.
These learning opportunities are often made possible through funded research positions in game development at Greenhouse Studios, housed in the UConn Homer Babbidge Library. Greenhouse forges diverse and democratic collaborations that build humanities scholarship in new formats to engage new audiences.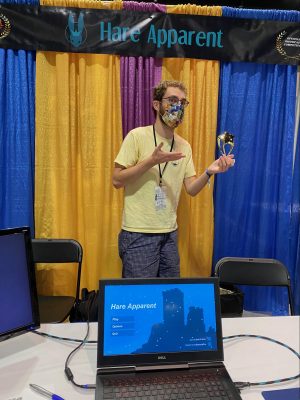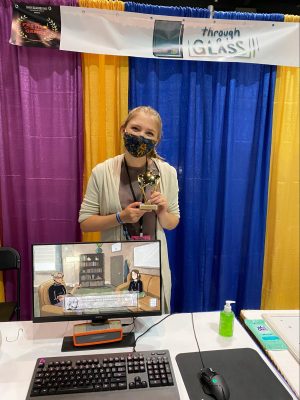 ---
Full List of Competing UConn Student Work:
Through a Glass 

Mackenzie Fox – Game Design /Coding / Art – (B.F.A. DMD '21) 
Hare Apparent 

Devin Quinn – Game Design – (B.A. DMD '21) 

Mackenzie Fox – Character Art – (B.F.A. DMD '21) 

Meaghan Doherty – Logo – (B.F.A. DMD '21) 
Enthrall 

Danial Ezzati, Game Design and Programming (M.F.A. DMD '24) 
Scrapshoot 

Robert Linquist – Lead Project Director / Developer – (B.F.A. DMD '19) 

Joshua Hirshfield – Lead Producer / Visual Effects – (B.F.A. DMD '21) 

Ben Guzik – Assistant Director / Lead Designer / Developer /Sound Designer – (B.A. DMD '20) 

Mackenzie Fox – Lead Visual Artist – (B.F.A. DMD '21) 

Christopher Janocha – Game Designer / Developer / Sound Designer – (B.F.A. DMD '20) 

Cadence Hira – Music Composition – (Berkeley School of Music '21)

Matt Tomaszewski – Project Director / Developer, Game Designer

Devin Quinn – Game Developer – (B.A. DMD '21) 

Zack Anderson – Gameplay Programmer – Engineering, (B.S. Comp Sci '23)
Rubicon

Devin Quinn – Lead Project Director / Lead Developer – (B.A. DMD '21) 

Josh Hirshfield – Game Designer / Developer – (B.A. DMD '21) 

Matt Hsing – Voice Acting

Malcolm Braren – Soundtrack Composer – (B.S. in Marketing '21)

Sean Mathieu – Marketing / Business – (B.A. DMD '21) 

Cadence Hira – Sound Design & Polish – (Berkeley School of Music '21)
NovaSwarm

Patrick Belanger – (M.F.A. DMD '18)
Thesis Topic:

Teaching Engineering Concepts with the Arts in Virtual Reality

 

Arpita Kurdekar (Ph.D. Candidate in Integrative Studies) 
Other Faculty Research Presented at ConnectiCon
Blackhaven

–

James Coltrain (DMD Game Design Faculty)

James Coltrain – Design, Story, 2D and 3D Art, programming, animation, audio, and music

Cast

Kendra Turner – Darby Farr

Maya Turner – Jada "JC" Brazil

Anthony Mitchell – Raven Boyd

Audio Tour Narrator – James Coltrain

Male Caller – James Coltrain

Female Caller – RachRob269
Script

Tia Alphonse

Tyra Johnson

Naomi Winston

Shearon Roberts

James Coltrain
Charles VR

–

Greenhouse Studios

Jonathan Ampiaw – (M.F.A. DMD '21)

Shawn Chen – (B.F.A. DMD 3D Animation '20)

Lauren Ciulla – (B.A. DMD Web/Interaction Design '20)

Ryan Freeland – (M.F.A. DMD '18)

Eri Lauer – (B.A. DMD 2D Animation '20)

Tim Miller – (Greenhouse Studios Mellon Design Fellow)

Alex Mueller – (B.F.A. DMD Web/ Interaction Design '22)

Lily Pashapour – (B.A. DMD web/Interaction Design '20)

Dan Pejril – (DMD 3D Animation Faculty)

Eric Rice – (Department Head, Music)

Tom Scheinfeldt – (Director, Greenhouse Studios and DMD Faculty)

Michael Young – (Humanities Librarian and Adjunct Lecturer in Art History)

Brooke Foti Gemmell – (Design Technologist, Greenhouse Studios)

Tom Lee – (Design Technologist, Greenhouse Studios, M.F.A. DMD '17)
Courtroom 600  

Undergraduate Research Assistants:

George Liam Houle – (B.A. DMD Game Design '18)

Abigail Golec – (B.F.A. Design/Technical Theater)

Brett Glynn – (B.A. DMD Game Design '19)

Alex Williams – (B.S.E. Software Design and Development '19)

Christopher Janocha- (B.A. DMD Game Design '20)

Jefferey Dobbs – (B.F.A. DMD 3D Animation '20 )

Joshua Hirshfield

– (B.A. DMD Game Design '20)

Ethan Hanna – (B.S. Computer Science '20 )

Justin Woods – (B.F.A. 3D Animation '20)

Kenny Wei – (B.S. CSE Software Design and Development '19)

Kerrie Maguire – (B.A. DMD Game Design '19)

Rae Enzie – (B.F.A. DMD Game Design '19)

Renoj Varghese – (M.F.A. DMD '21 )

Benjamin Guzik – (B.A. DMD Game Design '20 )

Charles Hildner-IV – (B.F.A. DMD Game Design '19 )

Santino Giannini – (B.A. Communications '19)

Graduate Research Assistants:

William Keeping – (M.A. DMD '16)

Margaux Ancel

– (M.F.A. Arts Administration '19)

Patrick Belanger – (M.F.A. DMD '18)

Stefan Lopuszanski – (M.F.A. DMD '20)

Meghan Arends – (M.A.Public History, UMass Boston '22)

Faculty

Ken Thompson – (DMD Game Design Faculty)

Clarissa Ceglio – (DMD Digital Humanities Faculty)

Stephen Slota – (DMD Game Design Faculty)

Gregory Colati – (UConn Digital Preservation Repository Program Director)

Graham Stinnett – (UConn Archivist)
EOS-503

(A funded research project. All students were compensated for their work)

Stephen Slota – (DMD Game Design / Neag Faculty)

Colter Moos – (Ph.D. Candidate Neag) 

Clare O'Hara – (B.S. Comp Sci '21)

Devin Quinn – (B.A. DMD '21) 

Mackenzie Fox- (B.F.A. DMD '21)

Meaghan Doherty – (B.F.A. DMD '21)

Josh Hirshfield – (B.F.A. DMD '21)  

Zack Anderson – (B.S. Computer Science '23)
---