#10. HuskyPride!
"The sense of community and Husky Pride at UConn is one of the things that first attracted me to the school. I love my major, my campus, and my peers, I'm proud to say I'm a Husky!"
- Isaiah, DMD Senior
When you choose to be a UConn Husky, you become a member of an incredible student body. Throughout your years here, you will get to experience many student traditions: rub the nose on Jonathan's statue, attend opening night for a UConn basketball game, grab a bucket at the one-ton ice cream social, sled down Horsebarn Hill, dance in HuskyTHON, and so much more.
With all of the activities, clubs, classes, and organizations, you're bound to find your pack here as a UConn Husky!

"The dairy bar is an ice cream lover's paradise. It's a sweet bonus on top of the beautiful campus and awesome programs."
- Christina, DMD Senior
Enjoy more than 24 flavors of homemade ice cream, and seasonal specials, at our very own UConn Dairy Bar. At the main location, students can watch ice cream being made right before their very own eyes. You can also visit the Kellogg Dairy Center and see the cows being milked.
Dairy Bar ice cream is also available in the Student Union, which is the center of campus activities, and from the Dairy Bar truck - which visits Stamford, too. Come check out the "sweetest course on campus!"

#8. Location! Location! Location!
"I loved that both campuses offer easy access to major metropolitan hubs on the east coast"
- Natalie, DMD Junior
Located in the heart of the northeast halfway between New York City and Boston, UConn's main campus in Storrs makes for an energizing and inspiring environment. 
And UConn Stamford is an urban campus located in the center of one of the nation's most robust business communities, less than an hour train ride from Manhattan. UConn Stamford DMD students benefit, enjoying tremendous access to internships, field placements, and employment with Fortune 500 companies, investment and banking institutions, and community–based organizations.

#7. Student Groups & Activities
"I couldn't believe that we have over 600 different clubs on campus. I was truly able to find a club for anything I was interested in! Being a member in my club turned into a leadership role which allowed me to get more involved in what I'm really passionate about!"
- Tiffany, DMD Senior
With hundreds of student organizations, UConn has something for everyone! DMD students are active inCGClub, UCTV / UV Film (Storrs), and Husky Video and Film Club (Stamford) UConn Gaming Club(Storrs) and Video Game Club (Stamford), Game Development Club, DesignedBlack and more! 
SUBOG oversees many cool events and activities including weekly movies in the Student Union theater, day trips to Boston and New York City, and much more.
If staying fit is your thing, UConn's brand new, 191,000 square foot Rec Center has incredible facilities and programming for everyone!

"UConn has some of the best athletics in the nation. Nothing tops the energy when I'm at one of the women's basketball games!"
- Ryan, DMD Senior
UConn basketball dominates the court! The UConn Huskies women's basketball team is the most successful in the nation, having won 11 NCAA Division I National Championships, including a record four-in-a-row from 2013-16! There is nothing like the feeling you get when you're cheering in Gampel Pavilion alongside your fellow Huskies! UConn participates in 21 NCAA sports, and we are pumped up to be back in the Big East this year! In fact, our eSports gaming team just won the 2021 Big East Rocket League Championship!!
And if the arts are more of your thing, UConn also has many art and cultural venues and events that make the University an exciting place to call home! See a play at the Connecticut Repertory Theatre, go to performances at the Jorgensen Center for the Performing Arts - which are now FREE for UConn students, attend an art exhibition at the William Benton Museum of Art, and more! 
With tons of things to see and do, there's never a dull moment on campus!

"When I found UConn's Digital Media program, I realized that I could actually take my childhood dreams and hobbies and turn them into a career."
- Sydney, DMD Freshman
UConn Digital Media & Design has an extensive curriculum, with three BFA concentrations (Digital Film/Video Production, Motion Design & Animation, Web & Interactive Media Design), and three BA concentrations (Digital Media Business Strategies, Digital Culture, Learning, & Advocacy, and a generalist BA in Digital Media & Design) available on both campuses and additionally in Storrs, BFA's in 3D Animationand Game Design - providing you with awesome skills that lead to award-winning projects and great careers! 
And in fall 2019, we rolled out our innovative new first year experience, which includes two 2-course sequences: Foundations in Digital Media and Design 1: Problem Solving and Foundations in Digital Media & Design 2: Storytelling, and Design Lab 1 and Design Lab 2. Our first year students learn all the principles and elements of design while simultaneously mastering Adobe Photoshop and Illustrator. And they get a solid understanding of storytelling and concept development that will help them to develop stunning portfolios during their UConn DMD years! Check out the full offering of DMD courses in the catalog.

#4.
DMD's collaborative projects!
"Collaborating with other UConn students, whether it's in class or at my club, has taught me how to work as a team and communicate with others effectively to reach our goal. This is an extremely valuable skill that I will use for the rest of my life!"
- Meira, DMD Junior
UConn DMD has a collaborative spirit! You will have many opportunities to work together on amazing projects! In the past two years alone, our students have created incredible projects through: The Bushnellin Hartford (architectural projection mapping on the facade and lobby), the Thomas J. Dodd Research Center (Courtroom 600 VR experience), AntU (interactive museum exhibition), Connecticut Repertory Theatre (projection mapping set design), and many companies each year through our award-winning student production agencies, ATION in Storrs and Beachball in Stamford.

#3. Jobs, Jobs, Jobs!
"I chose DMD because of the endless career opportunities that graduated students have. I chose DMD because I saw that I could get the skills and tools I needed to combine my love and skills with art in a field that has a great job market."
- Marcella, DMD Sophomore
More than 81% of DMD alumni have reported that they have started a full-time job in their fieldwithin 6-months of graduation!! The skills you learn in DMD are specialized and unique, making you an ideal candidate for a wide variety of well-paying positions.
Additionally, DMD regularly invites artists and industry professionals to speak and network with students, who often look to hire students directly from the department. Check out our "Diverse Perspectives in Digital Media & Design Speaker Series." In the DMD department, you will learn teamwork, have amazing mentorship, and earn incredible industry experience!

"UConn's facilities are some of the most technologically advanced and offer students the same experience that I will get in my career after school."
- Alex, DMD Senior
In the Digital Media & Design Department, we believe that, for our students to best succeed in their future careers, they should have access to, and experience with, industry-standard tools. 
On the Storrs campus, in Bishop Center, we have state-of-the-art facilities including: a Film Production Studio, Motion Capture Studio, VR / Gaming Studio, Cintiq high-powered computer lab, the SMACC (Social Media Analytics Command Center), Sound Editing Suite, Physical Computing Lab, and the DX (Digital Experience) Lab. In Stamford, we host a Mac Lab, Film Studio, SMACC, Physical Computing Lab, and the Innovative Collaboration Space.
Students at both campuses have access to our media cage and render farm. With top-of-the-line cameras, industry-standard sound equipment, superior drawing tablets, and more, the possibilities of what you can accomplish are only limited by your own imagination. Explore all of our awesome facilities here!

"DMD also had the most down-to-earth professors that came from reputable backgrounds and cared about prospering creativity in the class space."
- Joe, DMD Senior
UConn DMD has incredibly talented, dedicated, and thoughtful professors! Our faculty are ready to teach you the technical know-how, aesthetics / design expertise, concept / story development skills, and business strategies you need to succeed within the fast-paced field of digital media and design. And we truly care for each and every student. Even in the most difficult of times, like the current pandemic, our faculty are demonstrating their extraordinary compassion for our students, going above and beyond what is expected to deliver a meaningful online experience while also respecting the unique circumstances faced by every student.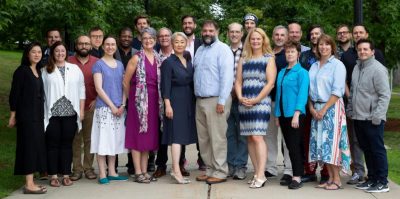 We are looking forward to you joining our UConn Digital Media & Design family!