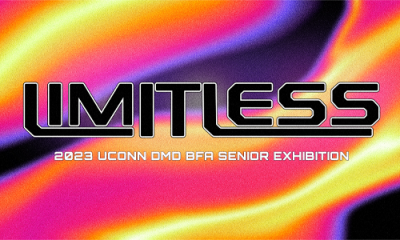 Limitless: 2023 UConn Digital Media & Design B.F.A. Senior Exhibition 
The UConn Digital Media & Design (DMD) Department is excited to announce the 2023 DMD BFA Senior Exhibition, Limitless. The in-person exhibition is open from April 1 to April 28, 2023 in the Jorgensen Gallery at UConn's Jorgensen Center for the Performing Arts, with an opening reception on Friday, March 31 from 4:30 p.m. to 8 p.m. EDT (with a screening of films and animations starting at 6 p.m.). Regular gallery hours are Monday-Friday 10:00 a.m. to 4:00 p.m., and prior to performances and during most intermissions. All events are free and open to the public.

Limitless features the work of thirty senior UConn DMD Bachelor of Fine Arts students from both Storrs and Stamford campuses. Exhibited artworks range from 2D and 3D animations to narrative and documentary films, mobile apps, websites, and games. The title Limitless reflects the expansive hopes of the exhibiting artists. For these students, the future has no limits. To learn more about the exhibition, visit: http://dmd.uconn.edu/bfashow. 
Exhibiting artists:
Giana Adragna (Newtown, Pa.), Jade Wedding Journal, mobile app
Agustina Aranda (Bridgeport, Conn.), Say Something, documentary short film
Nicole Bottone (Ridgefield, Conn.), Nightfall (日夜渴望), 2D animation
Willow Chau (Chester, N.H.), La Cuisine de Chau, website
Trinity Caban (New Haven, Conn.), Rooted Obsession, narrative short film
Matt Ciccone (Wallingford, Conn.), Alta's Odyssey, video game
Dan Collette (Middlebury, Conn.), Tutti, web app
Dean Corelli (Bedford, N.Y.), Legend of Silva, video game
Josh Estevez (Bronx, N.Y.), The 9 Chambers: Tower of Doom, video game
Andy Gardner (Bridgeport, Conn.), iDriver, mobile app
Wren Halpern (East Northport, N.Y.), Camp Hemlock, 2D animation
Sergei LeFaivre (Brookline, Mass.), Story of Success: UConn Basketball, 3D animation
Walter Luciano (Stratford, Conn.), Don't Break Your Controller, video game
Caitlin McCarthy (Easton, Conn.), Escape from the Grey, 2D animation
Parker McKenzie (Newtown. Conn.), Bird vs Evil, 2D animation
Shannon Nasution (Norwalk, Conn.), I'm Sorry for Your Loss, narrative short film
Christopher Orrico (Cos Cob, Conn.), The Ladder, documentary short film
Sarah Oxner (Shelton, Conn.), House Pets, narrative short film
Tiana Rawlings (Manchester, Conn.), Deadly Serious, narrative short film
Stephen Rivas (New Canaan, Conn.), March, 3D animation
Sandra Robel (Southington, Conn.), Reign, 3D animation
Shane Rungkagoonnuwat (Chiang Mai, Thailand), Creatures of One's Mind, 3D animation
Madison Salvatore (Alburtis, Pa.), The Bacchus is Dead!, video game
Jack Seraphin (Fairfield, Conn.), Manila, narrative short film
Grace Smedberg (Newington, Conn.), Trespasser, 3D animation
Madalynn Stewart (Norwalk, Conn.), Augustus, 3D animation
Brenna Thorpe (Branford, Conn.), Husky Wait Time, mobile app
Yazmine Uvidia (Queens, N.Y.), I Choose You, installation
Nandita Venkat (Glastonbury, Conn.), Tender Memory, video game
Cynthia Wan (New Fairfield, Conn.), Violet, website
The University of Connecticut's Department of Digital Media & Design creates future leaders in entertainment, design, business, and communications. Students study animation, film/video production, game design, web/interactive media design, digital media business strategies, and digital culture. Our commitment to experiential learning prepares our students to respond to real-world challenges, and we encourage students to find and express their voice, building from their unique background and perspective. We acknowledge that a diversity of thought and expression is needed in today's society and see great promise in our DMD students' abilities to make a difference in the world as future digital media content creators, distributors, and analyzers.
The University of Connecticut's School of Fine Arts balances artistic and cultural legacies with the innovative approaches and techniques of contemporary art. In doing so, the School of Fine Arts serves students at UConn in both their educational and their professional development. The outstanding faculty from the four academic departments (Art & Art History, Digital Media & Design, Dramatic Arts, and Music) are committed to providing rigorous professional education and all offer undergraduate and graduate degrees. The academic programs are supported by specialized and uniquely focused showcases, stages, exhibition spaces and forums which include the Jorgensen Center for the Performing Arts, The Ballard Institute and Museum of Puppetry, The William Benton Museum of Art, Contemporary Art Galleries, Connecticut Repertory Theatre, and von der Mehden Recital Hall.
###
If you would like more information about the 2023 UConn DMD BFA Senior Exhibition, email Marcella
Vertefeuille at digitalmedia@uconn.edu.
Download a .pdf of this press release.
---