December 5, 2022 | Joseph DeVito
From documentary film to motion design boards, exhibition shows off diversity of faculty expertise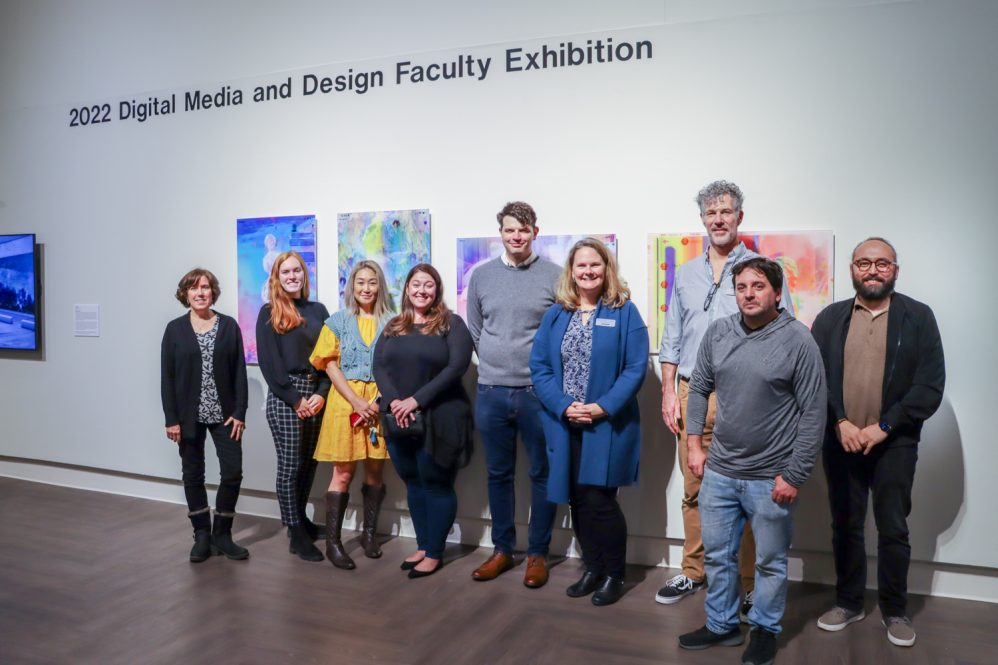 A bassist appearing to play in a landfill and a breakfast conversation between three Turkish couples are just two of the sights and sounds on display at the 2022 Digital Media & Design (DMD) Faculty Exhibition, where art speaks and moves on screens, and virtual reality headsets allow viewers to participate directly.Running through Dec. 18, the exhibition in the East Gallery at the William Benton Museum of Art spotlights the work of professors from UConn's DMD department in the School of Fine Arts. The featured pieces align with the various concentrations that the department offers students, such as motion design and animation, web/interactive media design, digital film/video production, and game design.Department head Heather Elliott-Famularo emphasizes the long journey to the current faculty exhibition since DMD's 2013 founding at UConn. While DMD and Art and Art History faculty had a shared exhibition in fall 2020, the 2022 exhibition marks the first exclusively for DMD faculty.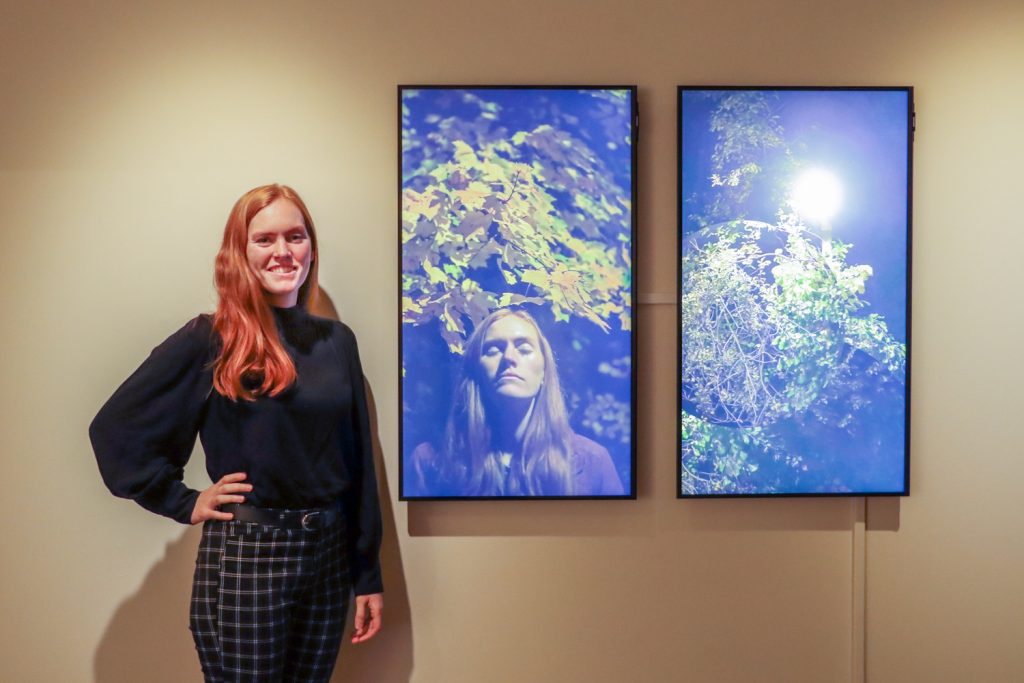 "Our faculty are doing really interesting and engaging work, but the UConn community has never had the opportunity to see their work professionally installed, so it's been really exciting to have a place where the faculty can share their work with the community," Elliott-Famularo says.
Amanda Douberley, the Benton's assistant curator and academic liaison as well as coordinator of the 2022 DMD faculty exhibition, says the museum takes pride in showcasing faculty work not just for the wider public, but for students and the creators themselves in particular.
"It's nice to share the creative work that comes out of the School of Fine Arts, and for students to see faculty work, and faculty to see their own work in the museum space, which is very different from a commercial gallery and certainly different from a studio setting," explains Douberley. "So I think that's a great contribution that the [Benton] museum can make to the life of the School of Fine Arts."
The exhibition showcases not just the breadth of disciplines in the department, but also highlights pieces that have won national and global recognition. Heejoo Kim's short animated documentary "Behind the Loom," for example, tells the story of women during World War II, and has won awards all over the world, including "Best Experimental" at the Toronto International Women Film Festival. Steve Harper's "Motion Design Boards" include promotional campaigns for "90 Day Fiancé: Before the 90 Days" and NFL team designs for Peacock/NBC Sports.
Samantha Olschan's "$n@cK/t!m£" fits in both the fine arts and design categories, Douberley notes. The piece consists of four digital prints on acrylic that mirrors a phone screen. In this series, classical sculptures like the Venus de Milo from ancient Greece mix with glitch overlays and direct messages (DMs) from social media and dating apps.
"I'm using crowdsourced speech bubbles from DMs," Olschan says. "These are things that actually happened to someone. Who has experienced this? Who is putting this woman in this position? Why is this narrative acceptable? The project is about consent, the gaze of the viewer, and how we appropriate the subject. The classical sculptures reference centuries of visual gender stereotypes and objectification, realistic but idealized, which we see still happening today with social media. How is this any different than photo filtering?"
In addition to these works, Elliott-Famularo contributed "American River," her 2007 piece with Murray McKay, in memory of McKay's passing earlier this year. The video installation explores ecological issues specifically at the Hudson River, as an LED sign below the screen scrolls through facts about the history of pollution in the river valley from 1850-2007. A speaker emits natural sounds while McKay's voice repeats the phrase "artist as." This "mantra," Elliott-Famularo explains, underscores artists' impact in speaking to issues like climate change.
"If the artists aren't there to communicate those stories on behalf of the researchers, then that research can just sit there and never be shared with the world," Elliott-Famularo says.
Heather Cassano's "Madness" relays stories of mental health across three screens or channels that display material from her documentary film in progress, "The Fate of Human Beings." The leftmost screen presents archival video from 1951 and 1952 of a doctor who describes different "mental symptoms." On the middle screen, viewers can see footage Cassano filmed from several northeastern mental institution cemeteries, while the right screen projects the number of graves at each.
"This wasn't even that long ago that we just wrote everyone who had any kind of mental symptom off as a non-productive member of society," emphasizes Cassano. "So after I watched those [archival] videos, I thought about what they mean in juxtaposition with the understanding that there are hundreds of thousands of people buried with no names in mental institution cemeteries. I don't think these things are divorced from each other. It's this stigma of not seeing people as human that leads to these atrocities, and I think that stigma originates in this diagnosis language."
Given the wide range of work in the exhibition, Elliott-Famularo says that, overall, it celebrates "the diversity of voices within our faculty," from backgrounds to experience to mediums used.
"[The exhibition] really shows the power of digital media, and how you can use a high-tech type of technology to tell a powerful story," Elliott-Famularo says.
Original Article via UConn Today: https://today.uconn.edu/2022/12/lets-get-digital-benton-exhibition-showcases-digital-media-design-facultys-artistry/
---