App Supporting Archival Research Continues Development with Community Partnerships
Sourcery aims to provide a one-stop shop for archival document sharing between collecting institutions and researchers.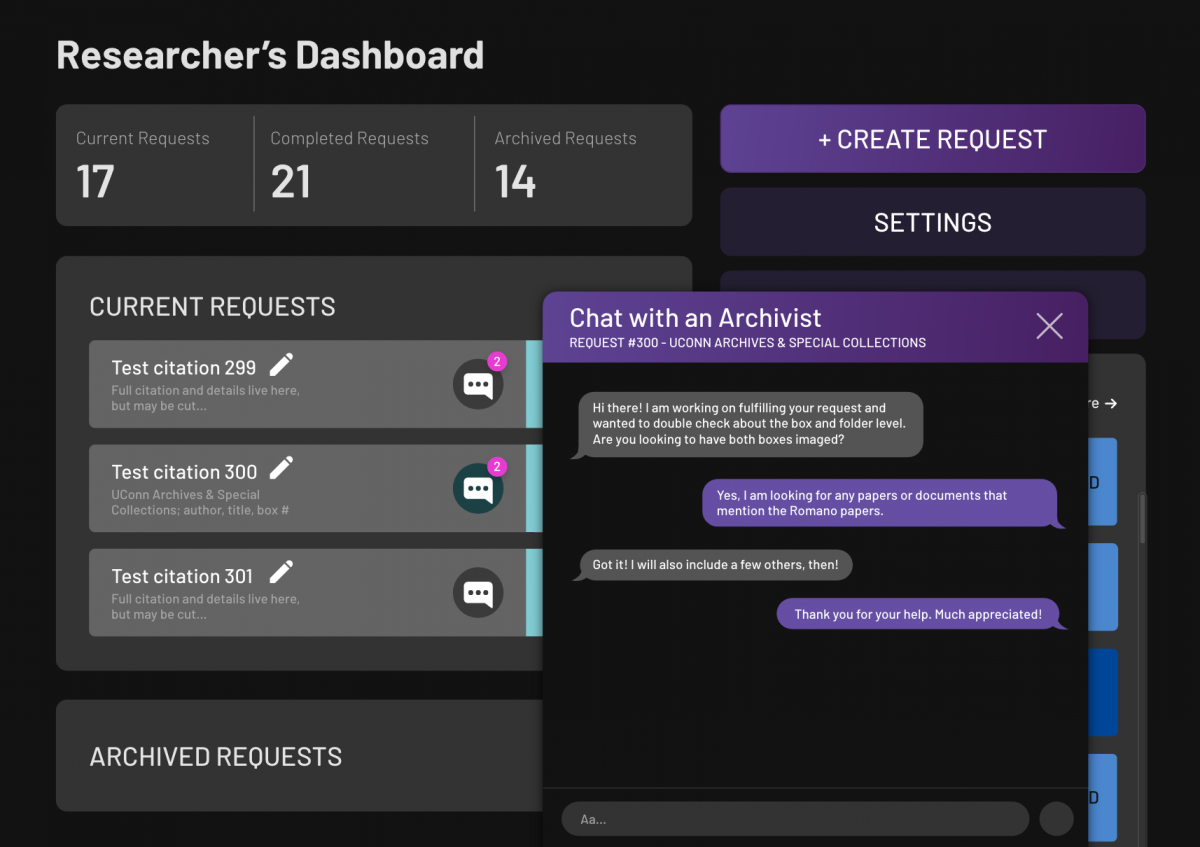 Archivists hold in trust centuries of documents and artifacts that historians, anthropologists, literary scholars and more use to uncover new knowledge and understand our collective past.
But all too often, archivists and researchers are navigating workflows, processes, and institutional needs that make it challenging to  communicate effectively. This makes it difficult for archivists to manage document requests and for researchers to get a hold of the materials they need.
The Andrew W. Mellon Foundation has awarded $805,000 to the UConn team behind Sourcery, a software designed to simplify archival document requests.
This new funding will allow the team to develop Sourcery with input from partners at diverse collecting institutions. The team will work with the Hartford Public Library, Northeastern University, UConn Archives and Special Collections, and the Folger Shakespeare Library.
Tom Scheinfeldt, associate professor of history, and Brian Daley assistant professor-in-residence in the Department of Digital Media and Design, co-invented Sourcery in 2020 with the support of Greenhouse Studios.
Sourcery improves the workflow of archivists and librarians by providing a centralized platform for document requests.
Especially during the COVID-19 pandemic, accessing documents at other institutions is a challenge for researchers as they would either need to travel or navigate confusing online request systems. Existing document request systems often result in duplicate requests or multiple archivists working on the same task. Additionally, each institution has their own system for submitting requests, which can be difficult when researchers are trying to navigate multiple processes.
"Sourcery is kind of a middle layer between these closely intertwined but not always very well-communicating groups," Scheinfeldt says.
With Sourcery, researchers simply log in and submit the citation information for the document they need. If the request is more complex, they can enter a live chat with an archivist in the app.
"We want to make sure the labor of archivists isn't invisible," Carly Wanner-Hyde, design technologist at Greenhouse Studios and project lead of Sourcery, says.
With this grant, Sourcery will work with each partner to address specific concerns. For example, the Folger Library deals with rare documents of the English Renaissance and early modern period. Sourcery can help archivists digitize and prioritize cataloguing order of materials so they don't need to physically handle these fragile documents as often.
The Boston Globe donated their photo morgue to Northeastern's archives. Soon, whenever the Globe needs an archival photograph, they will use Sourcery to request them.
"Historical research doesn't happen without archivists and there wouldn't be much of a role for archivists without historical research," Scheinfeldt says. "Providing better channels of exchange between the two will improve the work of both."
Sourcery allows archives to see all active requests on a simple dashboard and manage the requests from there. It also provides archivists with useful data about what documents are being requested, what kind of research they are supporting, and more. Normally, archivists need to collect this data manually.
With Sourcery, researchers can see all their active and past requests on the platform, making it easy to track the status of a request or view previously requested documents.
"One of our big goals now is to make Sourcery a tool for archivists and institutions as much as it's been a tool for researchers," Wanner-Hyde says.
Sourcery also integrates with existing systems archivists and researchers use such as ArchivesSpace and Zotero.
Over the next few years, the team will visit conferences of historians and other relevant disciplines to gather community input about Sourcery's functionality and how to make it more useful to them.
"It's important to us that this is a product developed by universities for academic researchers," Scheinfeldt says. "And it's important for is that we build it with the input of the community. It's really a community product."
To learn more about Sourcery, visit sourceryapp.org. If you would like to join us in our testing phase, visit sourceryapp.org/join-us.
See original story via UConn Today: https://today.uconn.edu/2022/02/app-supporting-archival-research-continue-development-with-community-partnerships/ 
---