Congrats, you are #UConnBound!
Congratulations, you did it!! Welcome to your new home and family, UConn's Department of Digital Media & Design!
Join over 300 zany and passionate students who want to create, design, and strategize with you!
Collaborate with 10+ partnered corporations and organizations each semester.
Experience great internships and unique opportunities.
Gain the skills that will help you to land that dream job after graduation!
Computer Requirements: DMD majors must purchase a laptop and Adobe software. As this is required for the major, FAFSA packages can be used for the purchase. Please see our DMD Computer Requirements guidelines, which also includes a First Year Recommended Accessory Kit and Gear Recommendations for Film/Video Production majors.
We are sorry that, due to COVID-19, all in-person Spring 2021 events for Admitted Students have been cancelled. DMD faculty and students would love to have welcomed all of you and showed off our facilities and friendly atmosphere in-person. Check out some of the cool virtual events planned by UConn Admissions here.
And while state policy prevents us from giving tours inside our building, if you happen to come to campus for a Storrs tour, please let us know and we would be happy to meet you outside and answer any questions you may have - just email Stacy Webb at stacy.webb@uconn.edu, and we will see if one of our faculty or staff are available.
And be sure to check this page regularly and follow us on social media! We will be making regular updates and sharing public events via these methods.
---
PAST VIRTUAL EVENTS:
DMD at UConn Stamford Virtual Info Session
Tuesday, April 6, 2020
5:00 PM, EST
Now, more than ever, our world relies on the expertise of digital content creators, analyzers, and distributors. Join us for a live webinar to learn more about the four-year Digital Media & Design (DMD) major at UConn Stamford and discover how we prepare DMD students to become future leaders in design, communications, business, entertainment, and other related industries.
School of Fine Arts Virtual Info Session for Admitted Students
Wednesday, April 7, 2020
7:00 PM, EST
Learn more about all of the departments in the School of Fine Arts: Digital Media & Design, Drama, Music, and Art + Art History. Ask questions, get answers!
Diverse Perspectives in Digital Media & Design Speaker Series
Every Friday for the rest of the semester
Join UConn's Digital Media & Design department in welcoming industry professionals, artists, and media scholars from film, game, design, cultural and other sectors to discuss how issues of equity manifest in their work, creative processes, and professions, allowing us to reflect on how our own practice can support greater equity, diversity, and inclusion. Free and open to the public.
Virtual Meet & Greet for All DMD Admitted Students
Sunday, March 21, 2021
1:00 PM, EST
Learn more about our extraordinary department in this virtual event! Meet faculty and current students, ask about DMD student life, and learn about our curriculum and concentrations. Start building friendships with the rest of the #DMDClassof2025!  For DMD admitted students only. Students who attend will be mailed some DMD merch, so be sure to register!
---
STORRS ADMITTED STUDENTS
Watch our Virtual Tour of Bishop Center, home of our DMD Storrs Program:
Explore our Motion Capture Studio, Film Production Studio, VR / Gaming Studio, Social Media Analytics Command Center, Digital Experience Lab, Cintiq Lab, and more!
Watch a day in the life of a Storrs DMD student:
Top Ten Reasons to Choose UConn DMD

---
STAMFORD ADMITTED STUDENTS
Top Ten Reasons to Choose UConn DMD
---
Para nuestra comunidad latina/x: hablamos en español
"¡Bienvenidos a DMD!
Mi nombre es Wanda y soy administradora de habla hispana en el programa de Diseño y Medios Digitales en Stamford. Si usted o sus padres desean conversar sobre el programa o tienen alguna pregunta, no dude en comunicarse conmigo, podemos comunicarnos por correo electrónico o programar una llamada. Estoy aqui para ayudarles." - Wanda Palma (wanda.palma@uconn.edu) 
Digital Culture, Learning, & Advocacy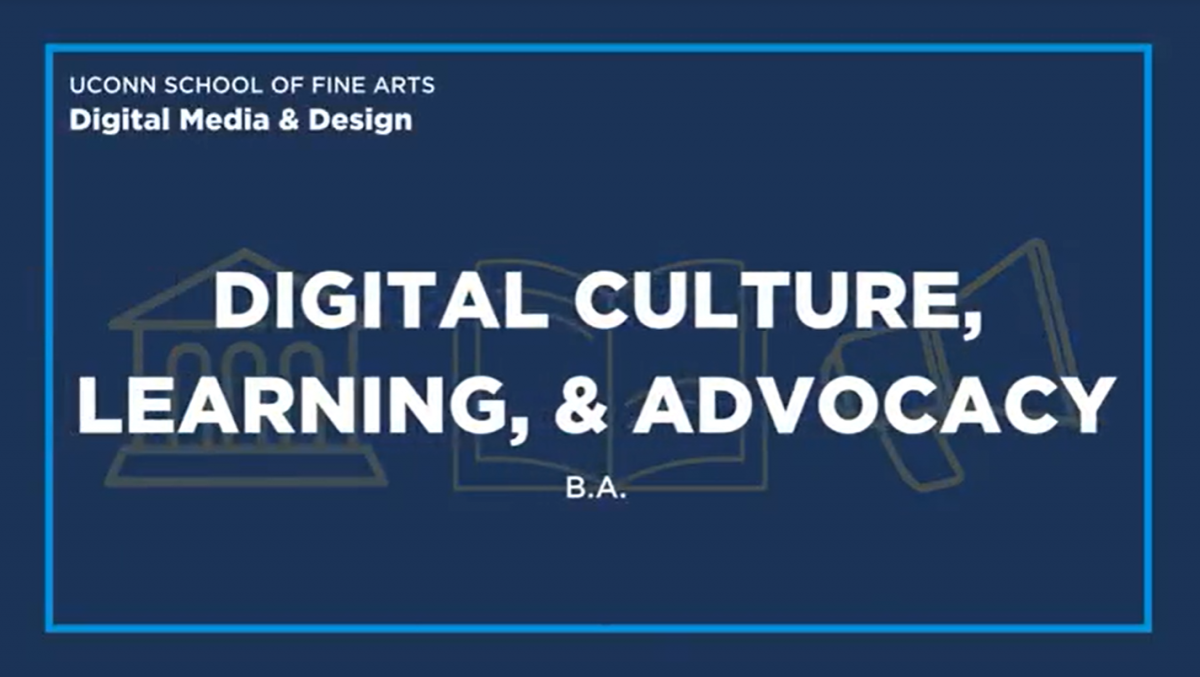 Digital Film/Video Production
Digital Media Business Strategies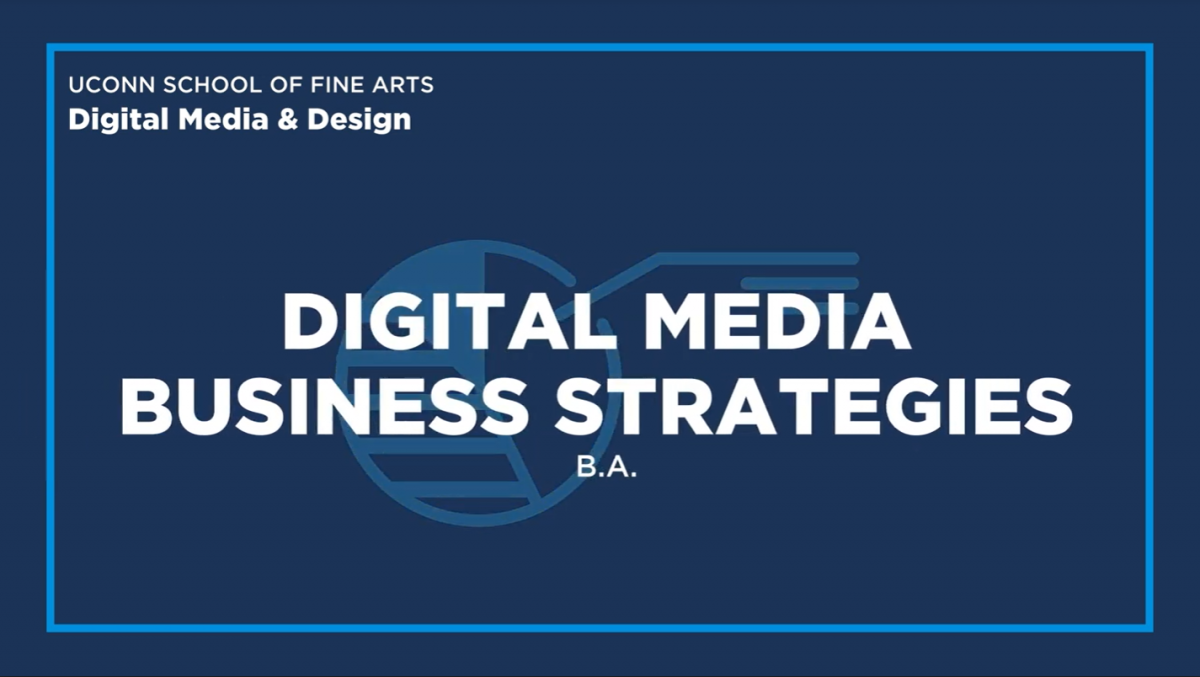 Motion Design & Animation
Web & Interactive Media Design
BA in Digital Media & Design (generalist)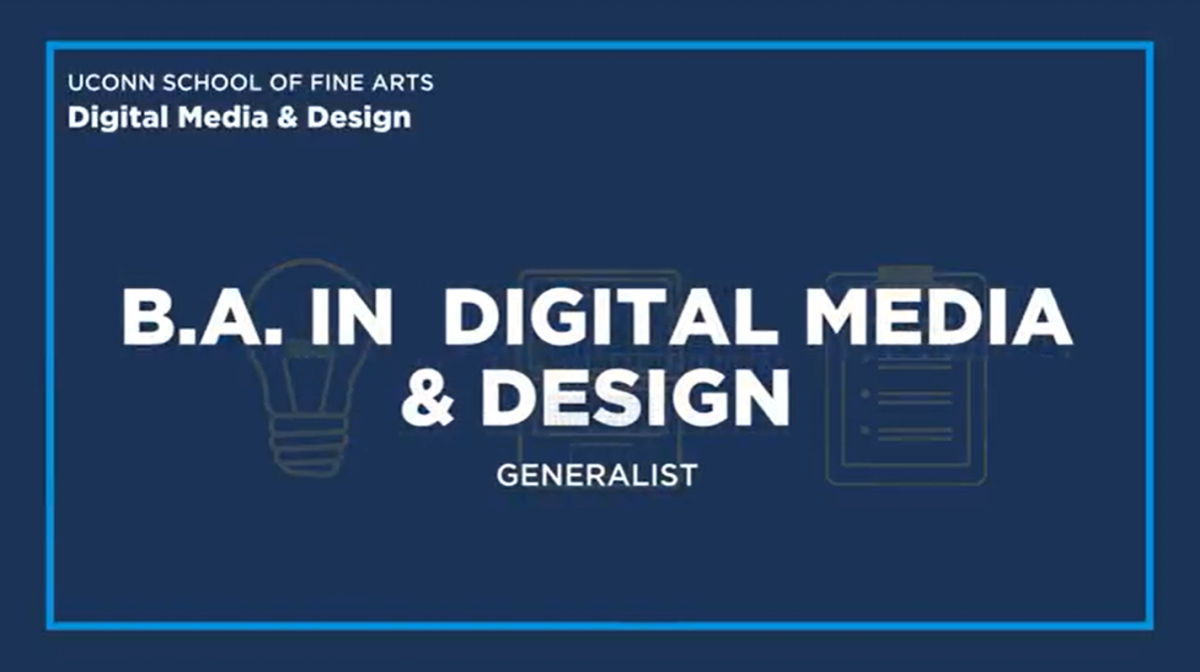 About DMD
We create future leaders in design, communications, business, and entertainment. Students can study animation, gaming, web design & development, digital media business strategies, film / video production, and the digital humanities.
Under the guidance of faculty who are all experienced professionals and practitioners, students have access to state-of-the-art facilities and engage with leading-edge hardware and software to both produce and measure digital media content for both today - and tomorrow's - brave new digital world. Our commitment to experiential learning in the classroom prepares our students to respond to real-world challenges that will distinguish them as thinkers, creators and innovators in the digital space.