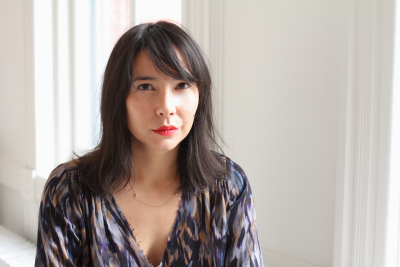 The Diverse Perspectives in Digital Media & Design: 2021 Speaker Series
Diverse Perspectives Festival Spotlight: "Lucky Grandma" 
Sasie Sealy, director / co-writer of "Lucky Grandma"
Friday, April 9, 2021, 12:00 PM, EDT
Sasie Sealy won big when her "Lucky Grandma" screenplay took the million-dollar production prize from AT&T Presents: Untold Stories. She defied conventional film wisdom by releasing this foreign language film to critical acclaim in the middle of a pandemic, with an ornery, chain-smoking Asian grandmother as the lead. In this talk, Sasie will share her experience of bringing this unique comedy to life and how her background in advertising shaped her storytelling abilities.
Prior to the event, we encourage you to watch the feature film, "Lucky Grandma," which is currently available via Showtime and to rent or buy on Amazon, iTunes, and GooglePlay . 
Watch the Recording of the Event: 
About the Film:
Set in New York City, an ornery, chain-smoking Chinese Grandma goes all in at the casino, landing herself on the wrong side of luck… and in the middle of a Chinatown gang war. 
Director Sasie Sealy brings to life a dark comedy about immigrant life, the vulnerabilities of aging and an unexpected friendship. Set in the alleyways and underground mahjong parlors with a cast of richly drawn characters, Lucky Grandma is a love letter to Chinatown and an homage to all the badass elderly women who inhabit it. 
About the Artist:
Sasie Sealy is an award-winning writer/director based in New York City, with a (still) lingering Southern drawl. She began her directing career studying photography with Gregory Crewdson and writing and performing with the sketch comedy troupe The Fifth Humour. However, her love of striking visuals and physical comedy soon took cinematic form and a lifelong addiction to filmmaking was born.
Sasie's debut feature film Lucky Grandma premiered at the 2019 Tribeca Film Festival and had Sasie listed by The New York Times as one of "9 Filmmakers Who Should Be on Your Radar." The film was released theatrically earlier this year to rave reviews and has appeared on multiple "Best of 2020" lists, including from Indiewire, New York Magazine, and Refinery29. Sasie was also recently included on the 2020 Alice Initiative list of Emerging Female Directors. Her shorts have screened at the Smithsonian Institute and festivals around the world, and she has twice been awarded the short filmmaking prize at the Tribeca Film Festival, with New York Magazine calling her film The Elephant Garden "one of the most touching and poignant films we've seen this year." A fellowship and new short with HBO in 2014 led to a chance to direct episodic television and her first DGA nomination in 2016.
Sasie is also a member of Bullitt Branded, the filmmaking collective and creative studio founded by Justin Lin and the Russo Brothers. Fresh out of film school, she first made her mark in the commercial world of fashion and beauty, and she continues to direct projects for everyone from Maybelline to Calvin Klein. Her commercial work has been featured in Vogue, Glamour, Style.com, and Refinery29.
She is currently developing the television series Sugarland at Amazon, with Ilana Glazer executive producing.  And is hard at work on her next movie. Learn more at: https://sasiesealy.com/ 
This event is brought to you by UConn's Department of Digital Media & Design.
Back to: Diverse Perspectives Events