"The Only One in The Room"
Jacqueline S. Beauchamp
,
Co-Founder, Chairwoman & CEO at Engaged Media, LLC, and seasoned businesswoman / entrepreneur within the digital media, technology, and entertainment industry
Monday, March 21, 2022, 5:00 PM EST
via YouTube Live
Co-hosted by Associate Professor of Digital Culture Clarissa Ceglio, and Digital Humanities and Media Studies graduate student, Michael Stone.
Watch the Recording of the Event:
The idea of the metaverse integrates gaming, AR/VR and mixed reality, artificial intelligence, 3D simulations and Blockchain technology in a world where people can explore and escape from the real world.  This is the world that Jacqueline Shorter-Beauchamp finds herself navigating and building on a daily basis. However, whether in the real world or virtual world, she finds herself being the only African American female business owner in those worlds.
Jacqueline will share her career journey as a computer technologist and patent holder at IBM to becoming the first female African American General Manager with Motorola Multimedia Systems Division to become an entrepreneur and business owner.  You will be enlightened from her perspective about the challenges, triumphs and experiences of being 'The Only One in The Room' working in corporate America in tech and media, and what it's like to navigate the tech world to become a successful businesswoman and entrepreneur.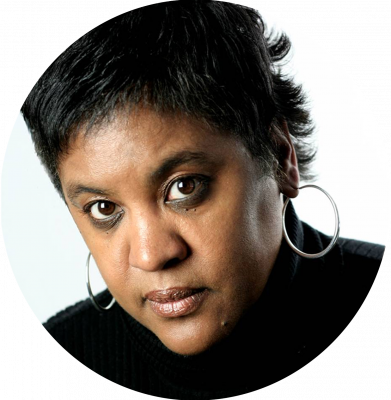 About the Speaker:
Jacqueline S. Beauchamp is a seasoned international businesswoman and social-entrepreneur with more than 25-years of experience within the digital media, technology, and entertainment industry. Ms. Beauchamp is currently the Co-Founder, Chairwoman and CEO of Engaged Media, LLC, a multi-platform digital media and entertainment company that develops video games, VR/AR immersive experiences, mobile applications, animated children's books, animated film and motion picture productions to inform, educate, and entertain. Before co-founding Engaged Media, LLC, Ms. Beauchamp was a co-founder of Nerjyzed Entertainment, Inc. which became the first African-American led video game studio to ship on Microsoft Xbox 360 Console with the shipment of "The Black College Football Experience (BCFx) Video Game Experience - The Doug Williams Edition," thus leading to the company being featured as the promotional showcase for CNN's Black in America: The New Promised Land – Silicon Valley with Soledad O'Brien.
Ms. Beauchamp's 25-year high-tech multimedia and executive-level corporate experience includes Fortune 500 companies IBM and Motorola. While at IBM, Ms. Beauchamp obtained a U.S. Patent for high-density memory module and received the IBM's distinguished division award as a key member of the design team for the IBM Point of Sales display retail product. Her career at Motorola was marked by her becoming the first African-American female General Manager of the company and led the Multimedia Systems Division, where she was responsible for overseeing and leading a global team of more than 250. This team developed digital settop box platforms, silicon technology for hi-end audio equipment, DVD consoles, and digital settop boxes as well as the development, licensing and distributed video games to the organization's digital settop box customers.
Ms. Beauchamp is recognized in the interactive video gaming industry as a pioneer and is a sought-after speaker on digital entertainment and women in business as exemplified at speaking events with Microsoft's Blacks and Women in Gaming, Disney Dreamer's Academy with Steve Harvey, ExxonMobil Black History Month, Walmart's Women's History Month, and the World Youth Foundation, Inc. Because of her trailblazing digital media expertise, Ms. Beauchamp was a vital team member in the formation of the State of Louisiana's Digital Interactive Media and Software Development Incentive Legislation. Ms. Beauchamp has also been featured in numerous local, regional, and national business and consumer media publications, including: CNN, Wall Street Journal, Chicago Tribune, Jet Magazine, Black Enterprise, Fox News, Essence Magazine, Forbes.com and the Mo'Nique Show as well as the award recipient of the 2011 Congressional Minority Business Award Technology Innovator of the Year.
Ms. Beauchamp also has expertise in international project funding and financial engineering where she spent more than five (5) years on assignments in Costa Rica, Panama, Abu Dhabi, Dubai and London, collectively. 
Ms. Beauchamp volunteers her time to numerous organizations, for many of which she holds board positions. Her board appointments include: former Governor appointed board member position on the State of Louisiana Workforce Investment Council and the State of Louisiana Innovation Council; former board member of the Baton Rouge Area Chamber, Louisiana Arts and Science Museum, the Southern University System Foundation and is a member of the Alpha Kappa Alpha Sorority, Incorporated. 
A cum laude graduate of Southern University and A&M College, Ms. Beauchamp holds a Bachelor of Science degree in Electrical Engineering with minors in computer science and mathematics and she is the proud mother of her older daughter Corbin who is also a graduate of Ms. Beauchamp's Alma Mater.
Back to: Diverse Perspectives in Digital Media & Design 2022 Events