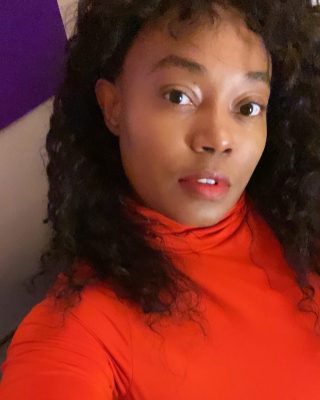 Amplifying Black Voices in Hollywood 
The Diverse Perspectives in Digital Media & Design: 2021 Speaker Series

Numa Perrier, Director of "Jezebel"
Small Screen, Big Impact: Creating Content for Underrepresented Voices in Digital Media
Friday, February 19, 2021, 1:00 PM EST
Co-hosted by DMD department head Heather Elliott-Famularo and DMD student, Isaiah Edwards
Watch the Recording of the Event:
Numa Perrier is an unabashedly honest storyteller with a nuanced approach to female empowerment, particularly when it comes to women of color. Join us as Perrier shares her filmmaking journey, from her start creating some of the most beloved Black web series on the internet to her first feature film and festival darling, "Jezebel." This discussion will explore how filmmakers can embrace authentic storytelling to create thought-provoking narratives that overturn negative tropes and redefine the medium. 
About the Artist:
Born in Haiti and raised in small-town USA, Numa Perrier has emerged as an exciting voice in the film/TV landscape.  Her early work includes starring in and writing the hit web series, The Couple, which scored a deal at HBO. She co-founded the pioneering streaming platform Black&Sexy TV serving as a creator, director, and showrunner on over a dozen series including Roomieloverfriends (produced by Issa Rae) and Hello Cupid (co-created by Lena Waithe) She then moved on to her feature film directorial debut, Jezebel, which premiered at SXSW 2019 and is distributed on Netflix via Ava DuVernay's ARRAY Releasing. 
Numa is the recipient of the Best Feature and Best Director Awards at the American Black Film Festival, is a Root100 alumni, and is also counted as one of all women directing team on Queen Sugar. Numa recently signed on to direct her first studio film, The Perfect Find with Netflix starring Gabrielle Union.  In front of the camera Numa recurred as guest star on Showtime's irreverent comedy SMILF in an critically acclaimed story arc about immigrants.  
Numa is currently starring in the surreal thriller Fuzzyhead alongside Rain Phoenix, and is in development on numerous projects including TOXIC, an erotic thriller series and her follow-up feature, Blood Mother, via her boutique production arm House of Numa.