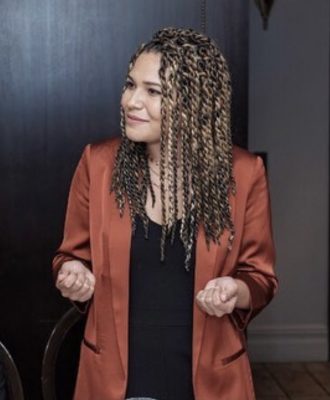 Amplifying Black Voices in Hollywood 
The Diverse Perspectives in Digital Media & Design: 2021 Speaker Series
Kristen Marston, Culture & Entertainment Advocacy Director at Color of Change Hollywood
Reforming Hollywood's Writers' Rooms: How the TV Crime Genre Normalizes Injustice
Friday, February 19, 2021, 2:30 PM, EST
Co-hosted by DMD professor Nikki Justice and DMD student, Rosalie Garcia
Watch the Recording of the Event:
Kristen Marston has dedicated her career to shifting cultural narratives into positive and lasting change in the entertainment space. In this discussion, using topical examples from scripted crime shows, Marston will discuss how representation and storytelling have advanced false narratives around crime, developed law enforcement "heroes," and distorted representations of people of color. Additionally she will speak to the powerful role TV plays in influencing public perception and policy change, asking, "How can we harness that power for good?"
Learn more about Marston's work at: https://hollywood.colorofchange.org/
About the Artist:
With unique expertise at the intersection of the entertainment and nonprofit industries, Kristen Marston is skilled at translating social issues from communities on the ground into film, TV, and advertising projects. She's worked with big brands like Nike and consulted on popular television shows like ABC's Grey's Anatomy and the Emmy-winning Netflix series, When They See Us, and has collaborated with companies to include Netflix, HBO Max, MTV, Amazon, and Lionsgate. To date, she has advised on over 100 entertainment projects across networks through working with writers rooms, creative executives, researchers, and advertisers to create media content that is reflective of women, Black people, communities of color, and the issues that affect us.
Most recently through her role as Culture & Entertainment Advocacy Director at the racial justice nonprofit Color Of Change, she helped launched a groundbreaking study on crime procedurals called Normalizing Injustice and worked to launch the #ChangeHollywood initiative in collaboration with Michael B. Jordan to provide actionable solutions Hollywood can take to move the industry towards real change. Currently she serves as Culture & Entertainment Advocacy Director at Color Of Change.