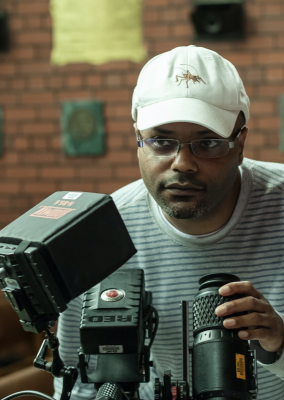 Amplifying Black Voices in Hollywood 
The Diverse Perspectives in Digital Media & Design: 2021 Speaker Series
Chris White, Visual Effects Supervisor, Weta Digital
Diversity Matters: The Value of Inclusion in Visual Effects and Animation
Friday, February 19, 2021, 4:00 PM EST
LINK TO ZOOM WEBINAR: https://zoom.us/j/99032546978 
Visual Effects and Animation help tell our heroes' stories, take us to alternate worlds, remind us of our past, and describe our possible futures. In this conversation with the next generation of artists, we will discuss the importance of bringing new voices to the industry's visual narrative, the value of diversity in design and problem solving, and methods of enhancing representation in this field.  
About the Artist:
Award-winning VFX Supervisor Chris White has more than 25 years' industry experience creating compelling digital environments, creatures, and effects. Chris has played a pivotal role in developing Weta Digital's new water pipeline for the Avatar sequels, bringing technical and artistic expertise to this cutting-edge technology that is setting a new industry standard for the creation of digital water.
He has been supervising Weta's work on Netflix's Umbrella Academy series, where he was nominated for a Primetime Emmy for 'The White Violin' episode in Season 1 (2019). Chris also recently supervised the space-traveling chimp Marcus for the comedy Space Force (2020). As VFX Supervisor on Valerian and the City of a Thousand Planets (2017), Chris led the team in creating the Pearl Planet, home to the Pearls who are humanoid aliens inspired by aquatic creatures. Previous creature supervision includes work on Rise of the Planet of the Apes (2011), where his leadership in creating the chimpanzees, orangutans, and gorillas was celebrated with both Academy Award and BAFTA nominations. Chris masterminded the complex Goblin Caverns environment for The Hobbit: An Unexpected Journey (2012), also nominated for Academy and BAFTA awards. He was the lead developer of the procedural system used to build digital New York City for King Kong (2005) and later expanded on this experience for the Maze Runner films (2015 and 2018). 
Chris is currently a Visual Effects Supervisor at Weta Digital and previously worked at Industrial Light + Magic. See Chris' full industry credits at IMDB.