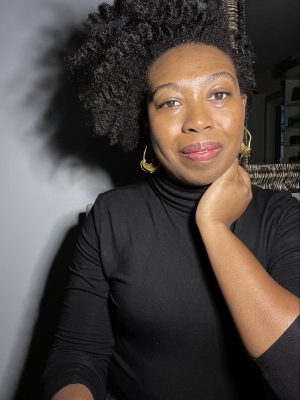 The Diverse Perspectives in Digital Media & Design: 2021 Speaker Series
Bl(x)ck Rhizomes: A Digital Public History Praxis
Aleia M. Brown, PhD, Assistant Director of the African American History, Culture and Digital Humanities Initiative 
Monday, February 22, 2021, 7:00 PM, EST
Hosted by DMD professor Clarissa Ceglio
Dr. Brown will share insights on Black liberation-oriented public history projects and also speculate about design processes that might help us deepen our understanding of freedom movements. 
Watch the recording of the event: 
This event is co-sponsored by the UConn Humanities Institute and its Digital Humanities & Media Studies Initiative.

About Dr. Brown:
Aleia M. Brown serves as the Assistant Director of the African American History, Culture and Digital Humanities (AADHum) Initiative where she co-directs the Restorative Justice Project and leads research, teaching, and programmatic initiatives. She was the recipient of the 2017-2019 Mellon-ACLS public fellowship, working as program manager at the Humanities Action Lab at Rutgers University-Newark. There she launched the multi-media installation Climates of Inequality: Stories of Environmental Justice. As Curator of African American History and Culture at the Michigan State University Museum she worked with the Desmond & Leah Tutu Legacy Foundation in Cape Town, SA to co-curate the traveling exhibition Ubuntutu: Life Legacies of Love and Action, and co-author the companion catalog. She has written and given talks on her two digital projects #BlkTwitterstorians and #MuseumsRespondtoFerguson. The desire to surface how Black folks have imagined and crafted liberation animates her exploration in un/merging material culture and virtual environments. Her current manuscript in progress reckons with the historic mishandling of Black women's textile art and illuminates the sophisticated ways that makers have visualized Black political thought. Brown holds a Ph.D. in Public History from Middle Tennessee State University, an M.A. in Public History from Northern Kentucky University, and a B.S. in History from the Honors College at Coppin State University.
Back to: Diverse Perspectives Events