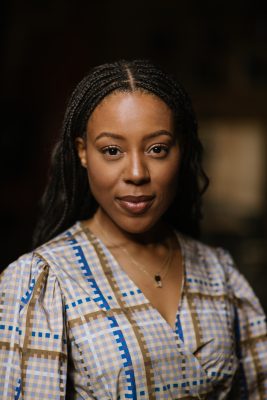 Amplifying Black Voices in Hollywood 
The Diverse Perspectives in Digital Media & Design: 2021 Speaker Series
Alana Mayo, President of Orion Pictures
Challenging the Status Quo: Authentic Storytelling at the Studio Level
Friday, February 19, 2021, 5:30 PM EST
Co-hosted by DMD professor Nikki Justice and UConn Ph.D. student, Pauline Battista
Watch the Recording of the Event:
Alana Mayo has built a successful career by championing content that reflects the world we live in and empowers both diverse filmmakers and underrepresented audiences. Join us in this discussion as Mayo shares how she has been able to challenge the status quo by embracing digital content creation on all platforms, hiring and collaborating with authentic storytellers, and implementing company-wide changes at the studio level.  
About the Artist:
Alana Mayo currently serves as President of Orion Pictures, a branch of MGM Studios dedicated to creating content that uplifts underrepresented voices. Mayo most recently served as Head of Production and Development for Outlier Society, a multi-platform production and media company led by actor Michael B. Jordan, where she oversaw the company's slate of films and television series. Previously, Mayo served as Vice President of Production at Paramount Pictures, where she worked on films such as A QUIET PLACE, ANNIHILATION, and FENCES.
As Orion's President, Alana Mayo oversees the label's day-to-day operations, including development, acquisitions, physical and post production. Orion Pictures, a division of MGM, is dedicated to underrepresented voices and authentic storytelling in film with a focus on developing, producing and acquiring feature films that amplify underserved voices, both in front of and behind the camera.
While at Outlier Society, Mayo led the charge with Jordan to create opportunities for more equitable hiring in Hollywood, with the launch of a first-of-its-kind company-wide inclusion policy, in partnership Warner Media, with JUST MERCY, based on the memoir of attorney, social justice activist and founder of the Equal Justice Initiative Bryan Stevenson, becoming the first film made under the new initiative.
Following her time at Paramount, Mayo worked with Vimeo as the company's VP and head of original development. In her role, Mayo helped strategize the creation of the video-streaming service's SVOD platform with scripted, original television content. Born in New York and raised in Chicago, IL, Mayo graduated from Columbia University with a Bachelor's Degree in English and a Bachelor's Degree in Film Studies. After interning with independent New York filmmakers such as Lee Daniels, Tribeca Films and Warrington Hudlin, she moved to Los Angeles to further her career in feature film production and development.