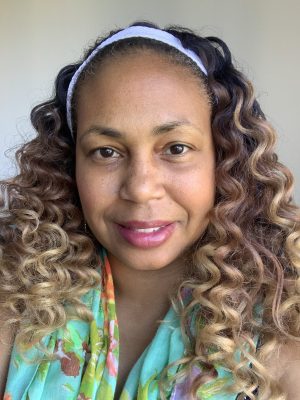 The Diverse Perspectives in Digital Media & Design: 2021 Speaker Series
Ethics, Diversity, and Inclusion by UX Design 
Deneva Goins, UX designer, VMware
Friday, April 2, 2021, 2:00 PM, EST
Co-hosted by DMD professor, Joel Salisbury, and DMD student, Arianna Gomes
User-centered design focuses on how different people interact with various systems to accomplish their goals.  We've heard that empathy is key, but what does it take to be a great designer? And what does this have to do with the intersection of gender, race and disability? Join 20-year UX (User Experience) veteran and rare black Silicon Valley unicorn, Deneva Goins, as we discuss how designers change the world, one experience at a time.
Watch the Recording of the Event: 
About the Artist:
Deneva Goins is a passionate, 20-year veteran in user experience design who has contributed her expertise across the globe at startups and well-known companies such as Intel, Microsoft, Cisco, HO, and more. She is currently a staff user experience designer at VMware, a global leader in cloud computing and virtualization software. She has called Silicon Valley her home for the past nine years.  Deneva is a candid and outspoken advocate for social justice regarding race and gender.  Deneva has a B.F.A. in Digital Art from Bowling Green State University and a M.F.A. in Interaction Design from Utrect School of the Arts in the Netherlands. Learn more at: http://thesmartux.com/
This event is brought to you by UConn's Department of Digital Media & Design.
Back to: Diverse Perspectives Events