STORRS DMD FACILITIES
In the Digital Media & Design Department, we believe that for our students to best succeed in their future careers, they should have access to, and experience with, industry-standard tools. On the Storrs campus, in Bishop Center, we host newly-renovated, state-of-the-art facilities including: a Film Production Studio, Motion Capture Studio, VR / Gaming Studio, Cintiq Computer Lab, Social Media Analytics Command Center, Sound Editing Suite, Physical Computing Space, and Digital Experience (DX) Lab.

Take a Virtual Tour of Storrs DMD!
Cintiq Lab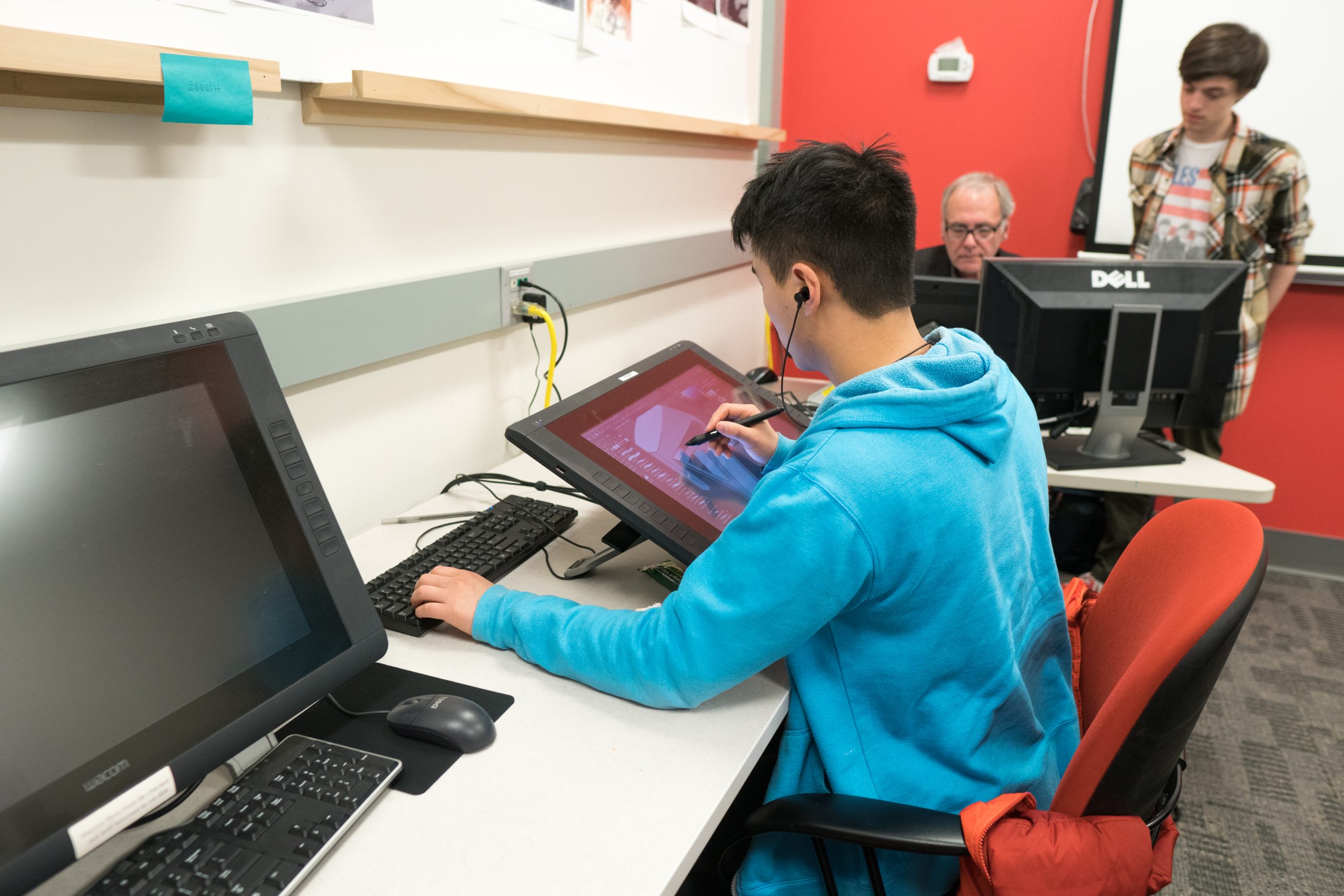 The Cintiq Lab in the Bishop Center basement features 14 high-powered PC workstations with 22" Wacom Cintiq interactive pen displays. Each lab machine is loaded with the Adobe Creative Suite, Autodesk Maya, Unity3D and a full suite of Red Giant plugins for Adobe Premiere and After Effects. The lab machines feature Intel i7 processors, Nvidia 1070 graphics cards and 32MB ram, capable of video editing, motion graphics and particle generation, 3D modeling and animation, 3D game development, and VR. The Cintiq Lab hosts several DMD classes and is available as a 24-hour computer lab for students enrolled in advanced classes.
Digital Experience (DX) Lab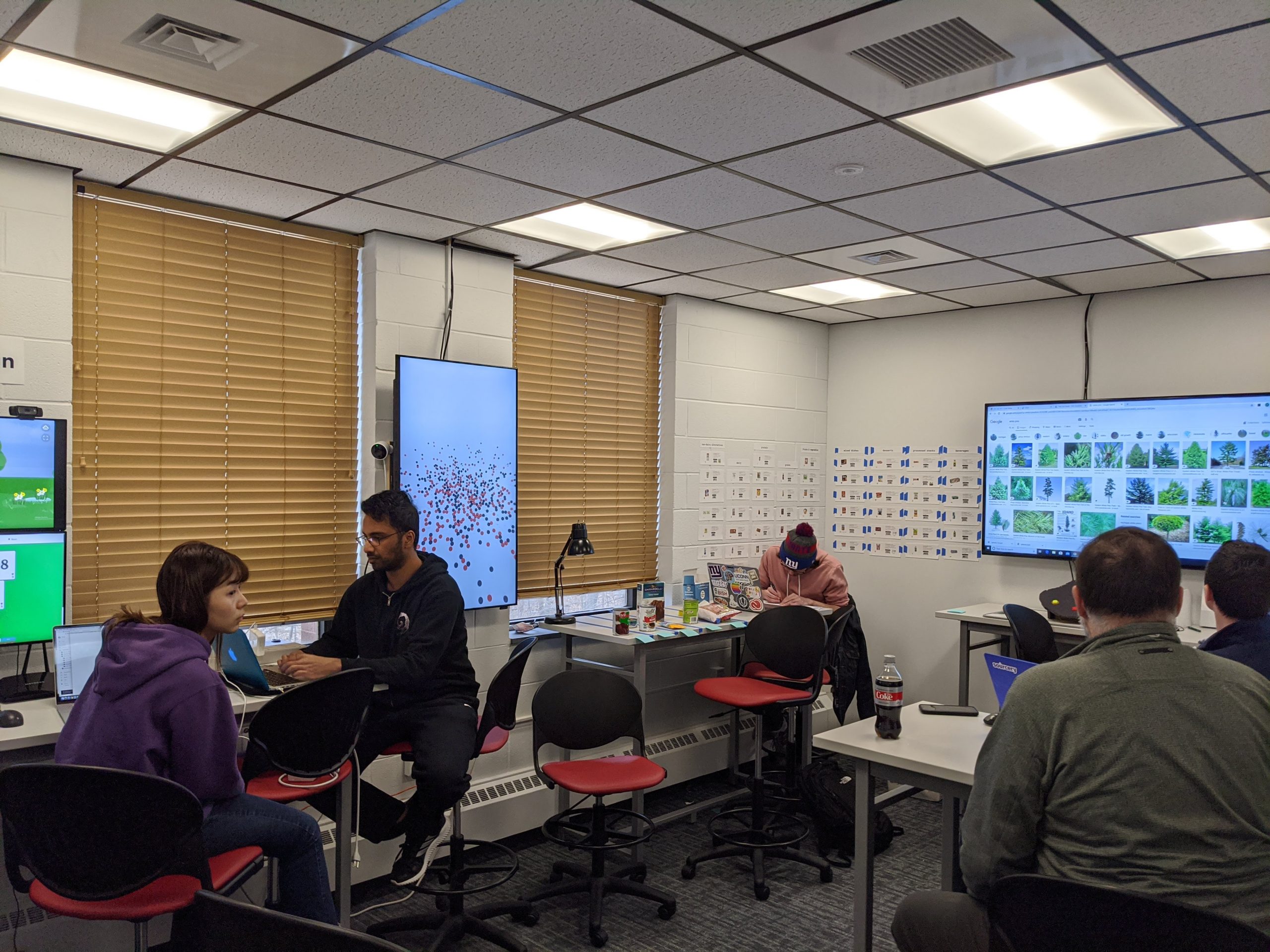 The UConn DMD Digital Experience Lab (DX Lab) explores the cutting edge of digital experience design, with a focus on emerging or under-explored technologies and methodologies. By engaging in project-based work and sponsored research, we aim to push the boundaries of user experience design while producing useful software products, internet-connected devices, and best practices in the interactive design space.
Film Production Studio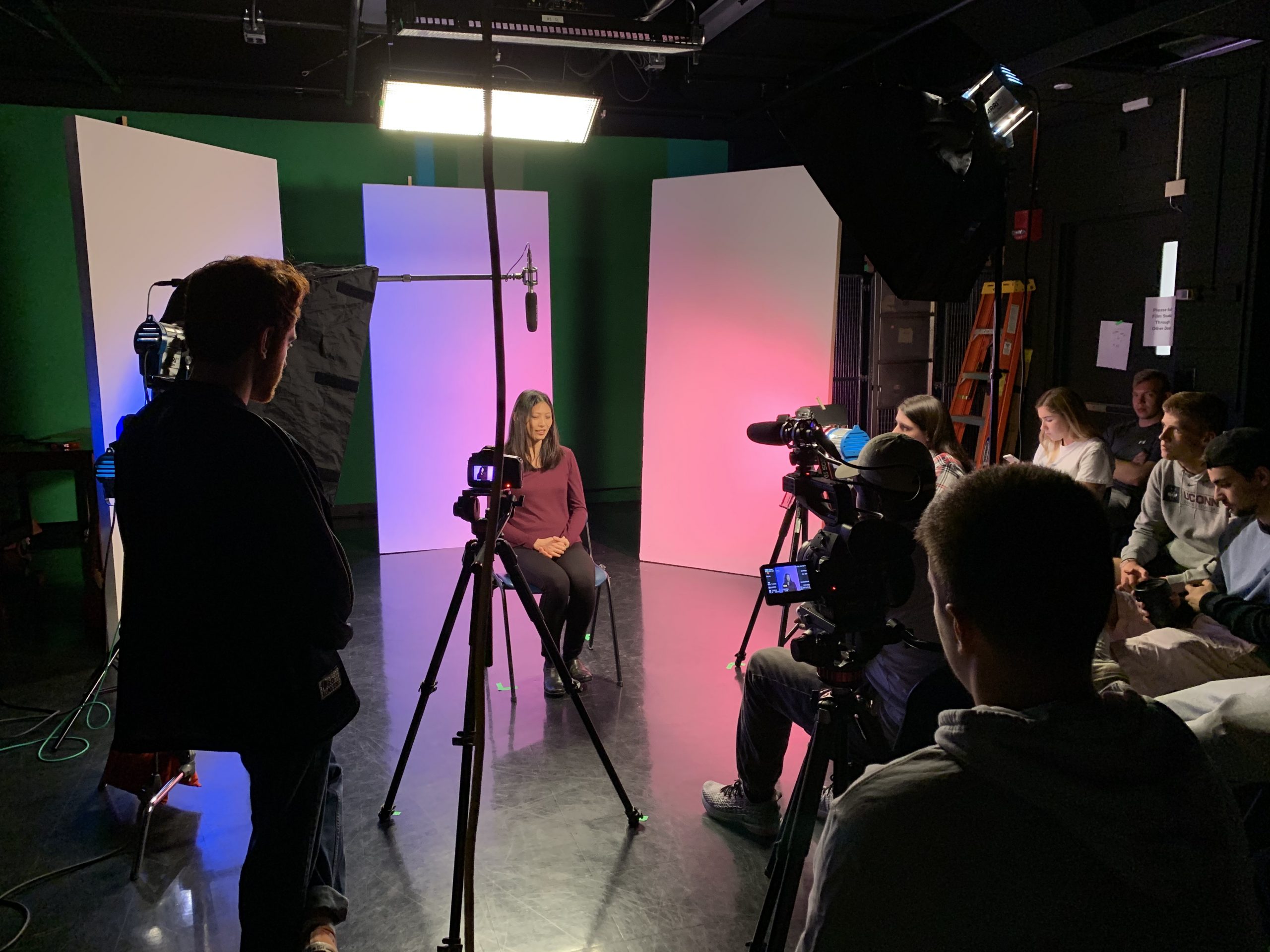 This 770 ft2 professional film studio features a full lighting grid and a 20' wide by 12' tall green screen wall. The studio is used for classes and projects in the Digital Film/Video Production and Motion Design & Animation DMD tracks, as well as faculty-led research projects. The studio contains professional DMX-controlled lighting systems, a GlideCam camera crane jib with motorized camera head, Wally Dolly camera dolly track, and other filming accessories. Sandbags, film flats, and multiple backdrop options are available for set design. Students working on projects within the Film Studio also have access to the DMD Imagination Station equipment.
Motion Capture Studio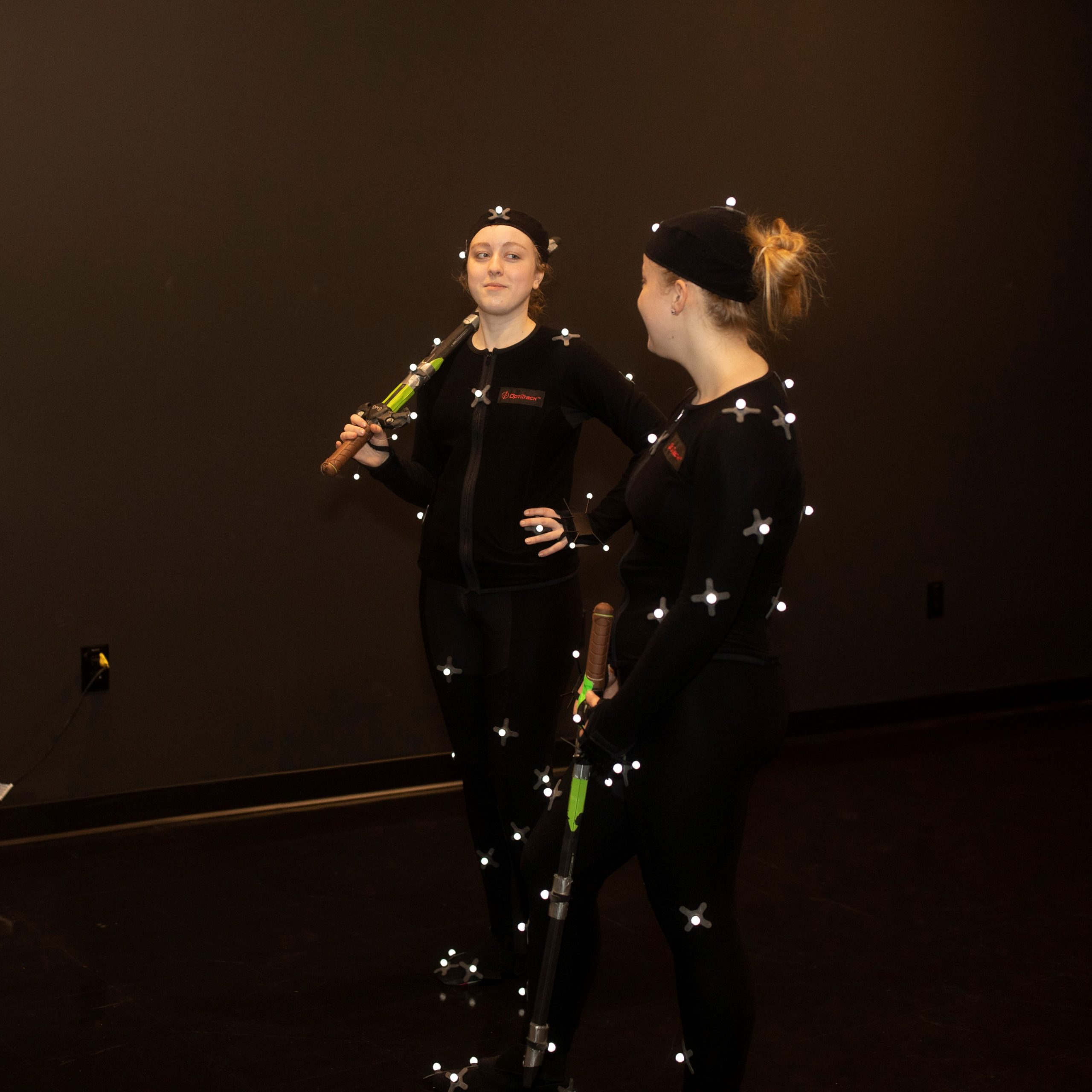 This 675 ft2 black box Motion Capture Studio features a ceiling-mounted grid with 18 OptiTrack motion capture cameras from NaturalPoint. The motion capture system allows faculty and students to capture the full-body movements of two actors simultaneously as 3D data, for use in animation, virtual reality, game design, and movement science. Students in the 3D Animation and Game Design DMD tracks take classes within the MoCap Studio, which is also available for faculty-led research projects. It also serves as a temporary exhibition space for projection mapping artworks.
VR / Gaming Studio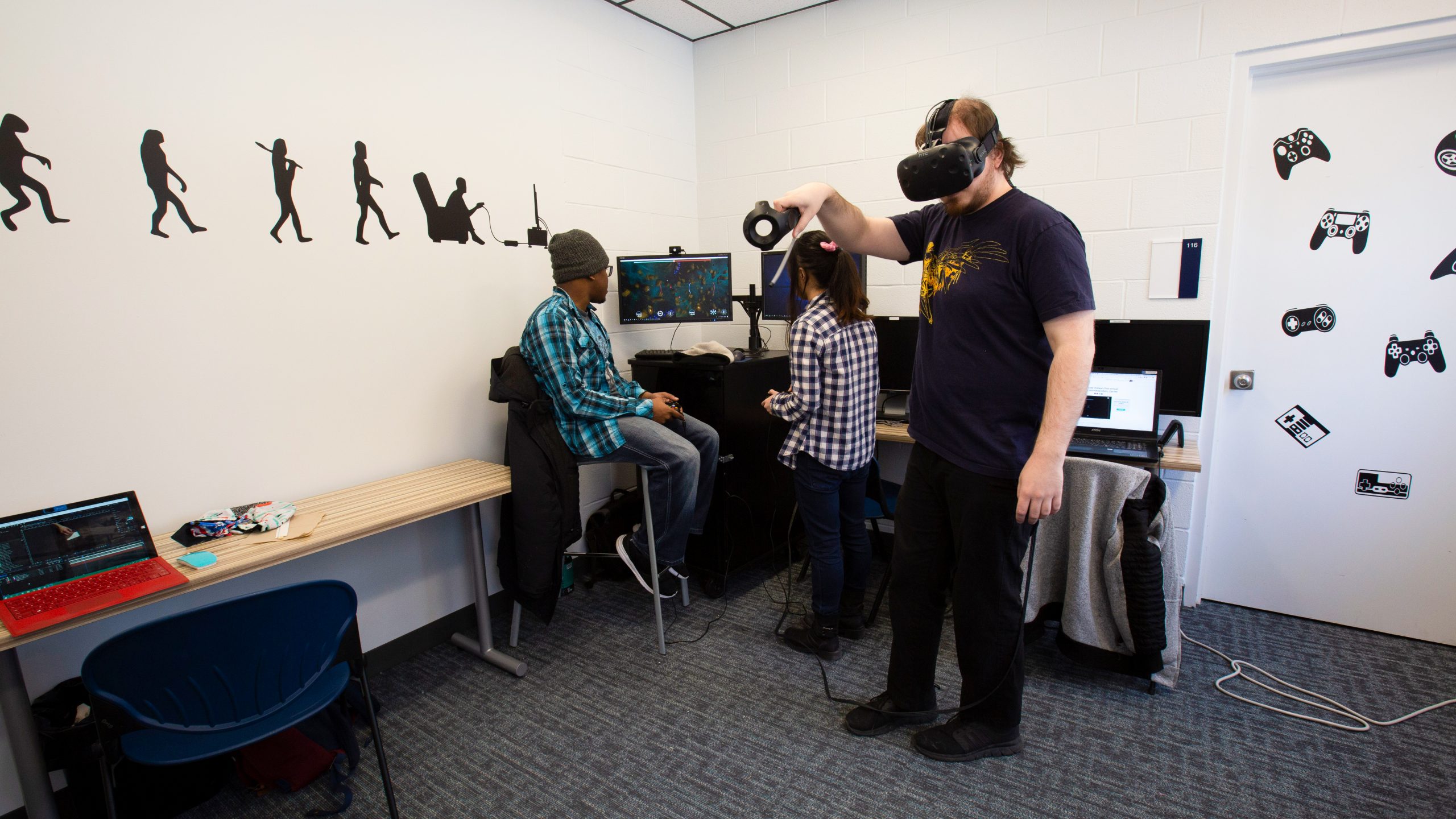 As part of our ongoing research in the development of interactive experiences and applications for virtual and mixed reality software, this full-sized gaming play space and lab is equipped with a VR-ready PC, three HTC Vive headsets, two Oculus Rift headsets, two Leap Motion hand controllers, and Arduinos that connect via plugin to the Unity3d development environment, all available for students. An additional user research booth, equipped with cameras, gives students access to modern consoles, an archive of digital games to research, and space to conduct user tests.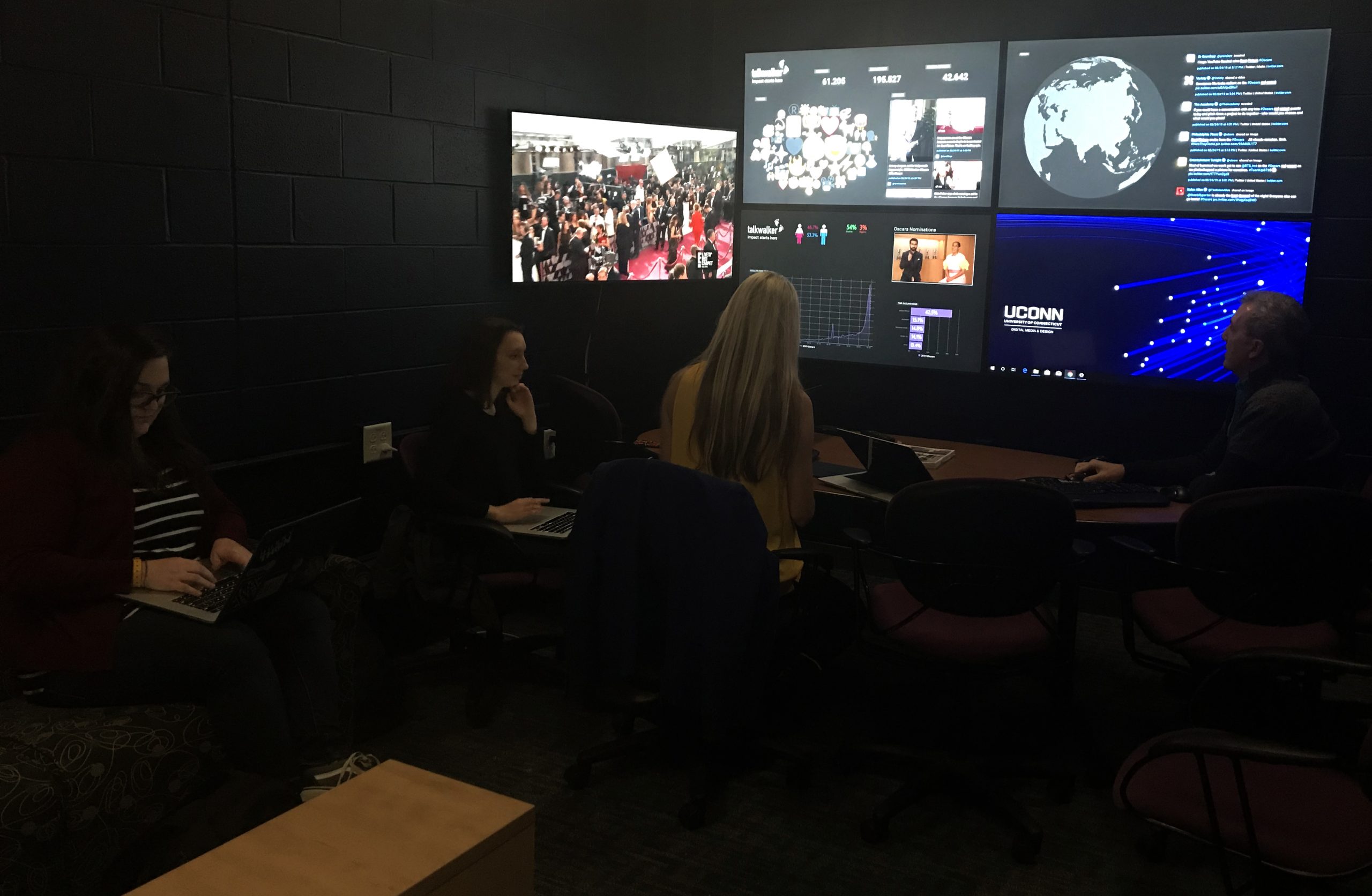 Through the Social Media Analytics Command Center, DMD students learn to provide insights, both historic and live, for clients' brands. With five large screens that simultaneously host various social media listening and research platforms and live broadcast cable feeds, the SMACC can research all publically available social and digital media conversations globally using TalkWalker and other platforms. These capabilities enable DMD students to research political and human events, protect brand image, track social media campaigns, monitor crisis situations, and track live cultural events. Social media analytics is one of the fastest growing industries, and our DMD students graduate with the best skills, thanks to this innovative center.
Sound Studio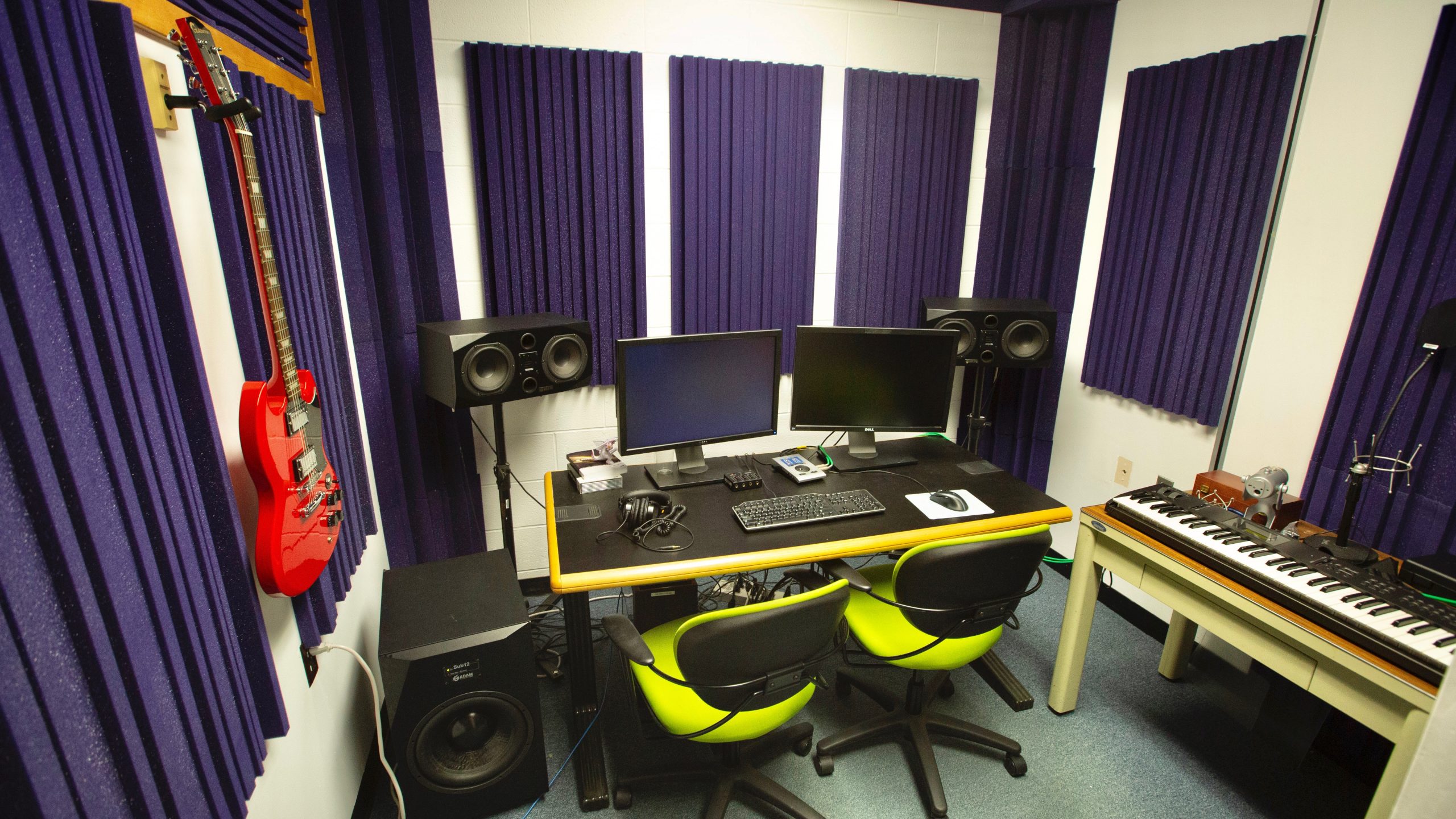 Our Sound Studio is located on the second floor of the Bishop Center. The lab contains a high-end PC loaded with Ableton Live 10 Suite, the Adobe Creative Suite, Komplete 6 digital instrument suite from Native Instruments, and other sound editing software. The lab is equipped with a voice over booth, Adam professional studio speakers with subwoofer, a selection of professional grade microphones, a digital keyboard, and multiple guitars. The entire studio is lined with sound dampening foam to ensure high quality recordings.
Physical Computing Space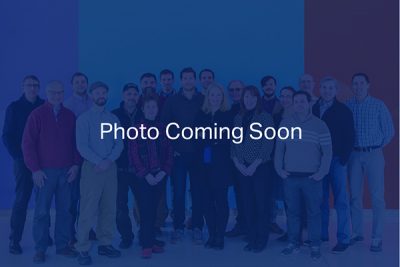 The Physical Computing Lab is home to the DMD maker. The lab is equipped with soldering stations, 3D printing stations, and multiple microcontrollers. Students working in the Physical Computing Lab have access to Arduino microcontrollers, Raspberry Pi computers, breadboards, and all the wiring, buttons, sensors and switches that a maker could ask for. The Physical Computing Lab hosts DMD classes: Disruptive Technologies (DMD 4536), and Wearable Electronics and Interactive Objects (DMD 3420), as well as faculty-led research projects.
Imagination Station (Media Cage)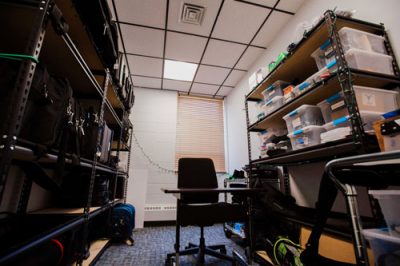 Through the Imagination Station, DMD students can sign-out the latest equipment to support their work! Equipment includes: 4K video camcorders, Canon DSLR cameras and lenses, action cameras, 3D mapping cameras, LED and conventional light kits, tripods, portable audio recorders, microphones, and more. The lab is open to check out and check in equipment 25-30 hours per week for students' convenience.
Graduate Studio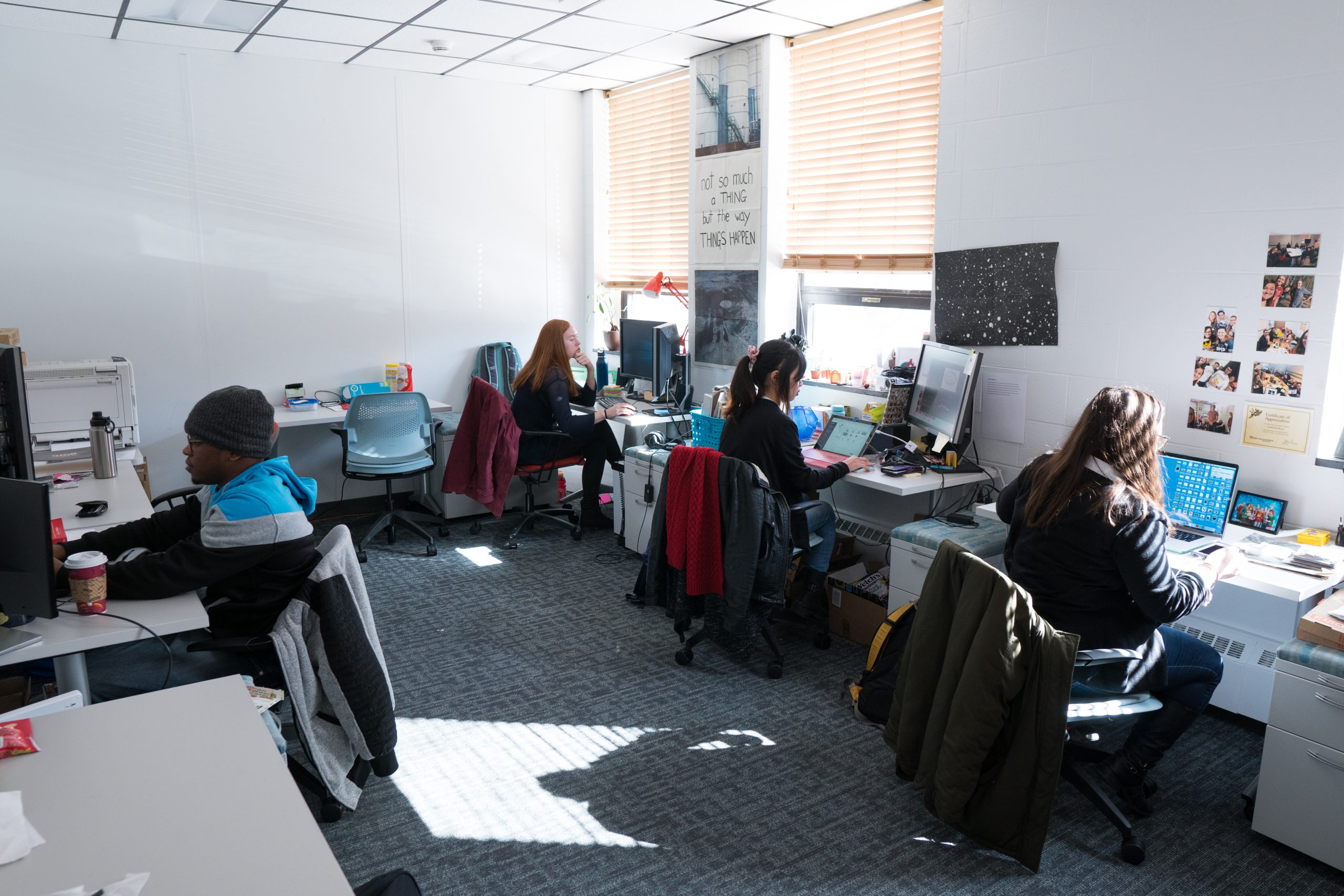 Our DMD Graduate Studio is a coworking environment for GA/TA funded DMD grads. The studio is equipped with 8 individual work stations, a printer, and a refrigerator. Graduate students have 24-hour access to the graduate studio.
Collaboration Studio (006)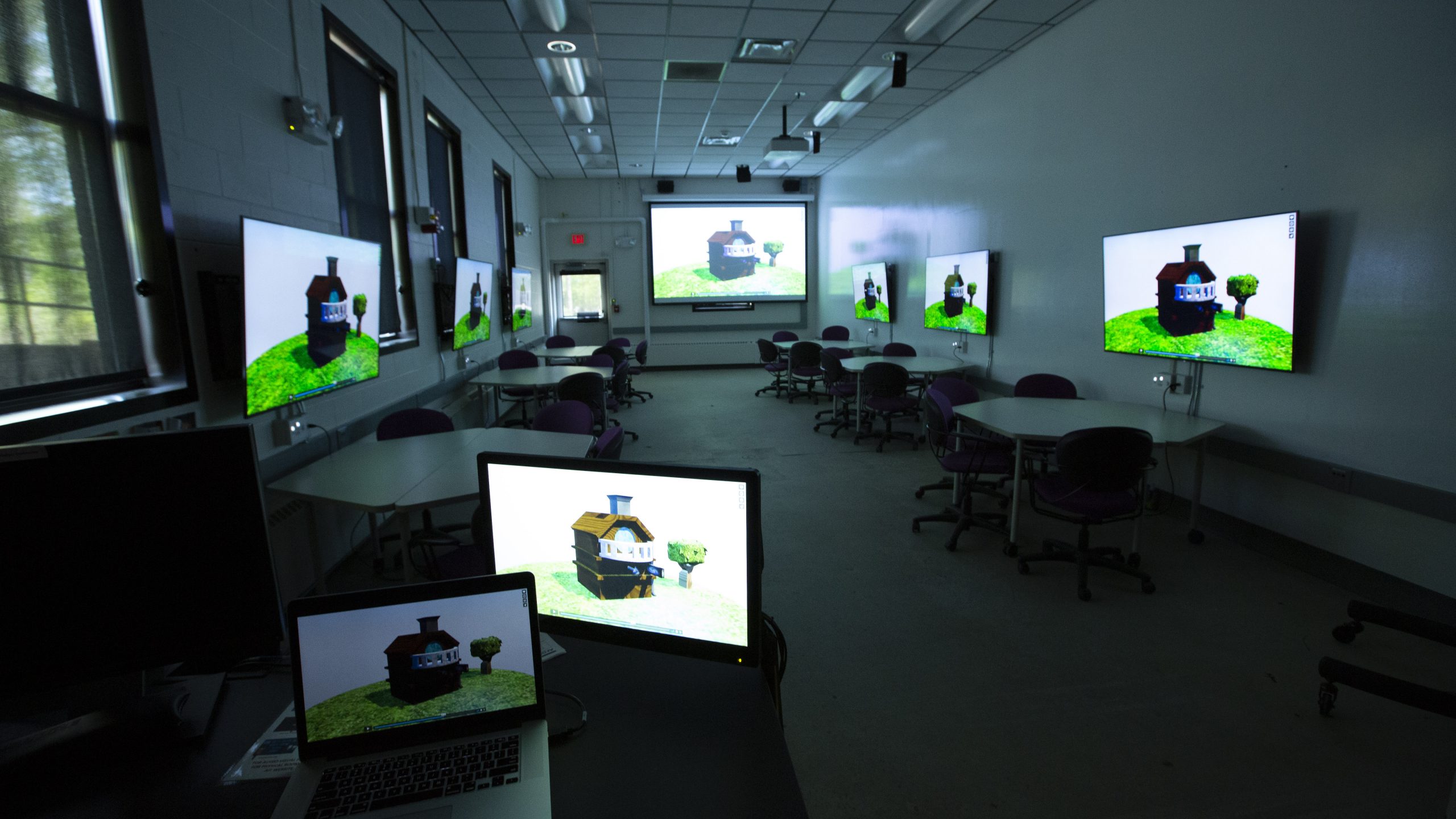 Our Motion Design & Animation classroom is located in the basement of the Bishop Center. With modular seating for 24 students, this newly-designed classroom is equipped with state-of-the-art audio visual equipment including six 65" 4K Sony Bravia monitors for viewing student work in high detail and true color, a laser projector, 10-foot projection screen, and a high-end instructor PC.
Telepresence e-Classroom (136)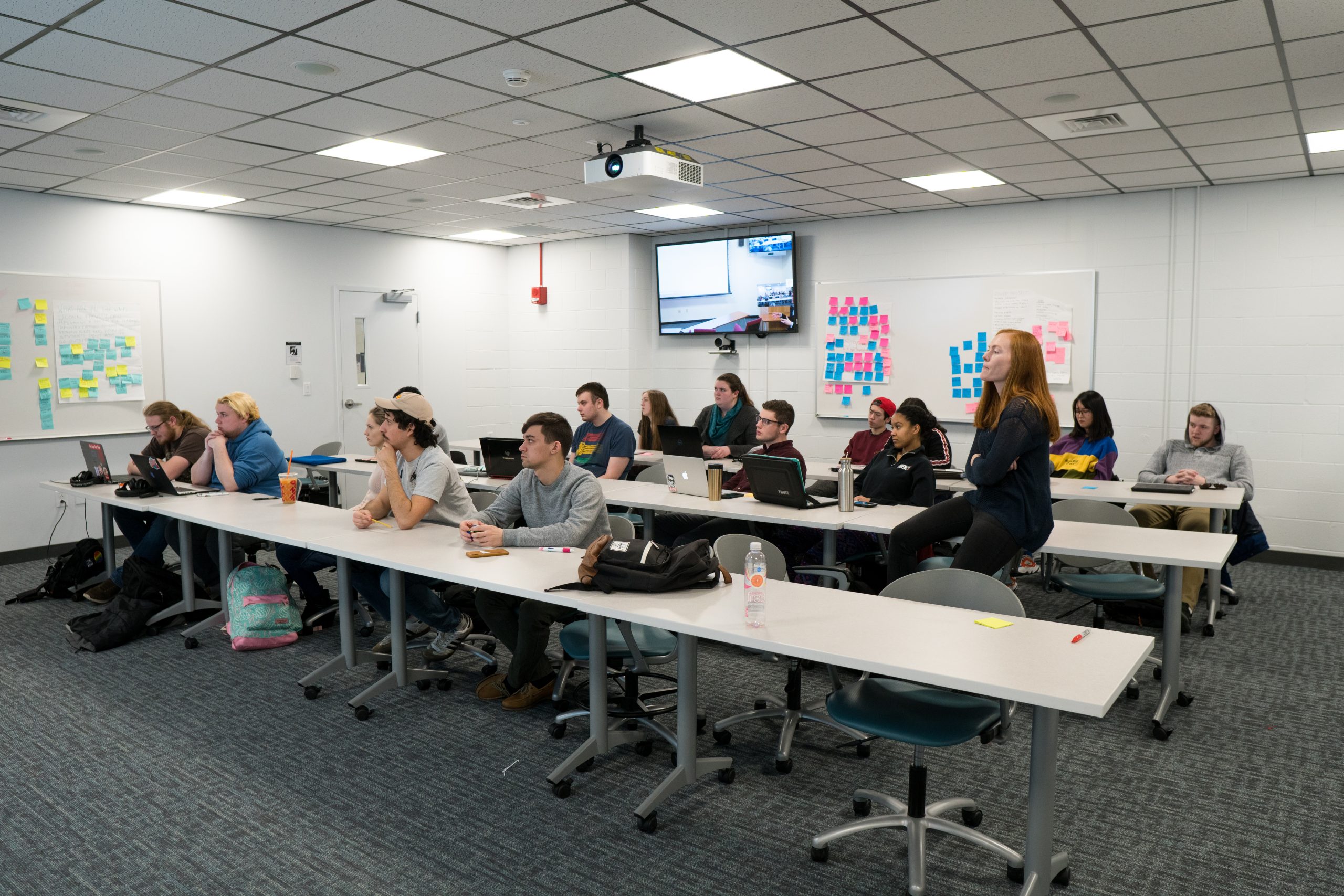 This DMD Linked Classroom features Cisco technology that allows for Telepresence between the Stamford campus 3.12 classroom and Bishop Center 136 in Storrs. The technology provides autofocusing cameras which detect and focus on the person speaking to display in the opposite campus' classroom. The classroom also features a state-of-the-art laser projector, 10' projection screen, stereo speakers and microphones, and a high-end PC instructor station. The classroom seats 24 students on modular furniture that is easy to rearrange into different configurations. The classroom also comes with two large dry erase boards for collaboration and a 24-foot long magnetic metal display wall for organizing and displaying printed work.
Installation Workroom / Flexspace
This windowless room is perfect for our graduate and senior students to work on their final projects, which may include video installations, projection mapping, and other interactive experiences that require physical space. Students can reserve the space for extended time to install, test, and document their artworks in preparation for exhibition in the Jorgensen Gallery (BFA Exhibition), The Benton Museum of Art (MFA Exhibition), or other public venues.
Classrooms / Conference Rooms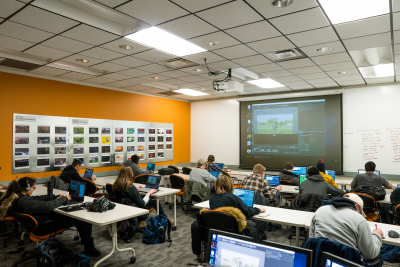 In addition to our incredible specialty facilities, we also have many great classrooms and conference rooms that are used for teaching, collaboration, and client meetings. Varying in size from our largest classroom, 146 which holds 50 people, to intimate conference rooms for meetings of six, we have plenty of space to accommodate all student and faculty needs. Most rooms are equipped with a teaching station with a large monitor and/or projector, white boards for collaboration, and bulletin boards to hand and share printed work. Wifi is available throughout the building.